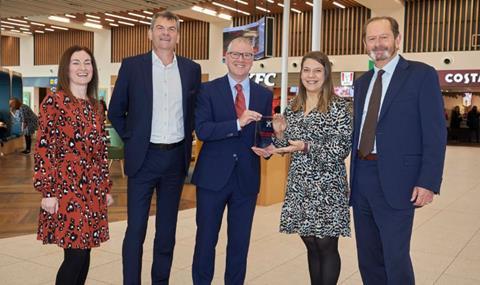 Moto's Rugby services on the M6 has been rated the best motorway services in Great Britain following a survey of 31,000 visitors.
At the other end of the scale, Welcome Break's Hartshead Moor East near Bradford came bottom of the list of 119 MSAs in England, Wales and Scotland, with an 80% score.
Views were sought on the toilets, staff, value of the food and drink, electric vehicle charging and the impact their visit has on drivers' mood.
According to independent watchdog Transport Focus, 100% of visitors were satisfied with their visit to Rugby services, the newest site on the motorway network.
It also came out on top as the site visitors were most likely to recommend to someone making a similar journey and the highest satisfaction with the toilets at 99%.
Welcome Break's Sarn Park was the highest rated services in Wales (97%) and Roadchef's Hamilton was gauged to be the highest in Scotland (94%).
Extra and Roadchef had the highest ratings for toilets, both at 93%.
Anthony Smith, Transport Focus chief executive, said: "Our survey shows motorway service operators deliver good overall customer experience and facilities, but visitors don't always feel they get value for money.
"Services continue to do a good job of their most important safety function – allowing drivers to rest and relax before getting back on the road."