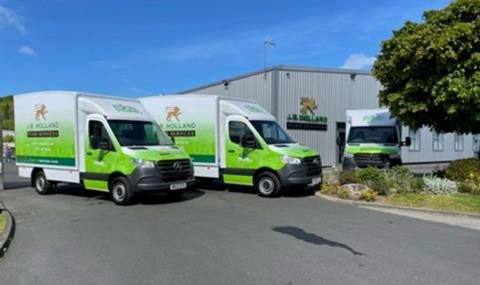 North East food service supplier JR Holland is taking delivery of three new Mercedes 3.5-tonne Slipstream vehicles and four 7.2-tonne Ivecos.
JR Holland supplies over 4,000 product lines to customers in the leisure, education, health care and public sector, making 4,800 deliveries a week. It has a fleet of 42 vehicles.
The new trucks, delivered by Lancashire-based Solomon Commercials, have been chosen by the Gateshead based firm for their fuel efficiency and to help the company meet its emission cutting targets.
The new 3.5-tonne Mercedes, supplied by Gary Stephenson at Bell Truck and Van, use Solomon Commercials' Slipstream bodies. These are designed to JR Holland's requirements to increase their aerodynamic performance. They also include an innovative undermounted GAH fridge which increases the vehicles' payloads.
The four 7.2-tonne Iveco, supplied by Ian Hopkins at North East Truck and Van, are designed to accommodate a 4.9m body with triple doors with a Thermoking V500. The new fleet also incorporates full road safety features.
John Holland, director of JR Holland said: "We are incredibly pleased with the new vehicles as the way the team at Solomon designed the bodies help us reduce fuel usage and has over a tonne payload.
"It results in us being able to carry more while reducing the number of deliveries but increasing efficiencies. It's a win-win solution for us."
Matthew Jones, sales manager at Solomon Commercials, added: "JR Holland is a well-established business in the North East and has built a reputation for providing the best fresh produce in the area.
"To deliver the best food produce for their customers, they need vehicles that will ensure the products get to where they should be in perfect condition.
"The new additions to the fleet will certainly do that as our team has designed them to meet our client's objectives, and it was a pleasure to work with the team at JR Holland on this project."