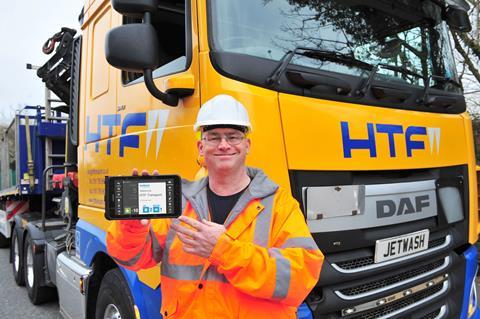 Heavy-lift transport specialist HTF said business management solution BigChange has transformed its business within six months.
The Oldham-based company has replaced all previous systems with the single platform CRM, job scheduling, mobile app, vehicle tracking and customer portal which provides real-time 24/7 visibility of its nationwide HAIB hire operations.
"BigChange has completely revolutionised the business by eliminating paper," said HTF Transport director Lance Bromley. "We are so much better informed and that makes it a lot easier to manage the business and keep customers happy. In managing the fleet operation BigChange has already improved efficiency by 25% and we'll be able to expand the business quite a lot more without the need to increase numbers in the office."
HTF customers using BigChange include Generator Power, Garic and ABird Generators, allowing HTF to instantly provide compatible digital reports on plant deliveries and collections. "We see huge potential in the BigChange Network allowing everyone to seamlessly share data; connecting customer and contractors and driving business efficiency and really everyone wins," Bromley added.
HTF uses the BigChange cloud-based CRM and job scheduling software to book and allocate jobs which are then dispatched to drivers. Vehicles are tracked as part of the BigChange mobile app running on tablets that clip into a cradle for pre-routed navigation to site.
"The BigChange app navigates brilliantly right to site using the unique six-digit references used by utilities and we don't need to call drivers anymore as everything is on the tablet," Bromley explained.
Worksheets for each job guide the driver through all the correct safety and data entry procedures to ensure complete and consistent digital reporting, with everything synchronised in real time with the BigChange back-office management system.
Established for over 30 years, HTF transports heavy plant, industrial, construction and other equipment using a 16-strong fleet of specialist crane-equipped vehicles.