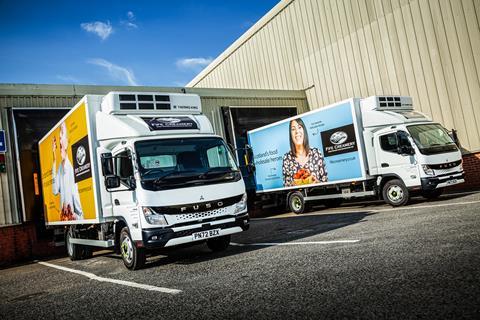 Fife Creamery is in the process of adding 30 new Canter 7.5-tonners from Ciceley Commercials to its fleet, along with two 18-tonne Mercedes-Benz Actros.
Most of Fife Creamery's 30 new FUSO Canters have been delivered and are already on the road, delivering chilled, frozen and speciality ambient products to a broad customer base from independent sandwich bars and butcher's shops to large retail chains and restaurants and hotels.
The family firm is ramping up its fleet as it continues to expand into frozen food services following a £1.65m investment last year in a new frozen cold store with capacity for up to 1,000 pallets.
The company said it has chosen the FUSO Canter for its payload allowance and fuel-efficiency, as well as the compact dimensions, which makes it suited to multi-drop delivery work in town and city centres.
Fife Creamery is standing down its first FUSO Canters which it purchased in 2014, along with a number of Mercedes-Benz Atego 7.5-tonners from 2012 and 2013, although the company continues to operate nine Canters from 2019-20.
The fleet also includes five 18-tonne Actros – with a fifth recently added to the fleet as part of the same order and a sixth 18 tonner Actros on order. These pull drawbar trailers and are allocated to more distant runs, or those involving high volumes.
Read more
The new Canters also come with a redesigned cab which includes improved driver comfort and insulation to reduce in-cab noise and reinforced rear underrun protection to minimise the impact in the event of an accident.
A newly developed, compact exhaust system means the new model also meets the EURO VI – STEP E emission standard.
As 7C18 variants, Fife Creamery's trucks employ 3.0-litre common-rail powerplants that generate range-topping outputs of 129 kW (175 hp) and up to 430 Nm of torque, and drive through smooth-shifting DUONIC dual-clutch automated manual transmissions with Eco Mode, Parking and Creep functions.
Gray & Adams builds and fits the Canters' dual-compartment, insulated bodywork at its Dunfermline manufacturing facility, where it also installs the dual-temperature Thermo King V-800 Series refrigeration units.
Designed for fresh, frozen and deep frozen truck applications, the eco-friendly V-800 incorporates a road compressor which is powered by the vehicle's engine, and a stand-by compressor that employs an electric motor.
Logistics manager Richard Wishart said: "The Canter is not a long-haul truck but it's excellent for the kind of intensive delivery work that we undertake in busy urban centres such as Edinburgh, Glasgow and Aberdeen.
"Despite the fridge body, and with a driver and full tanks of fuel and AdBlue also factored in, ours will still take a 3.0-tonne payload – that's almost a tonne more than you'd get on a conventional 7.5-tonner. At 18 miles per gallon, the Canter is also comfortably ahead in terms of fuel economy, and this contributes to its overall cost-effectiveness.
"We work these vehicles hard," he continued. "Each will typically clock-up 70,000 miles a year, so the fact that the Canter is backed by Mercedes-Benz, and we can get a full five years' warranty cover, is another important plus."
The new FUSO Canters also sport the company's striking new branding which features images of individual colleagues employed in a variety of roles, presented against brightly-coloured backgrounds on the sides of the trucks.
Sales director Steve Appolinari said: "The campaign seeks to celebrate and acknowledge the vital contribution our food wholesale heroes make to our success, while highlighting the diverse and quality-driven range of food products we are proud to represent in the Scottish market."
This is the first time that Fife Creamery has purchased vehicles from Ciceley Commercials. Wishart said: "The new Canter looks smarter and more modern than the outgoing model while the Dealer's FUSO sales executive Simon Fletcher has kept us up to date as regards production and delivery schedules, and provided an excellent service throughout."