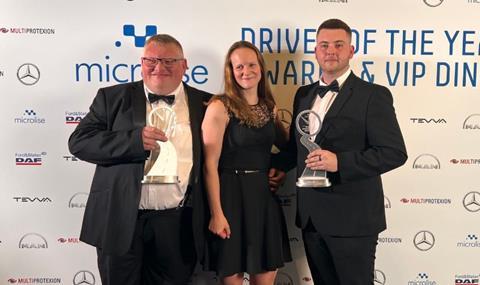 EV Cargo is celebrating after two of its drivers were honoured at the Microlise Driver of the Year awards.
Steve Lynch and Luke Tranter were crowned Driver Hero and Young Driver of the Year respectively, after impressing judges with their quick-thinking, expertise behind the wheel and dedication to promoting logistics as a successful career.
Judges heard how Lynch, who has worked with the global logistics and tech provider for seven years, helped another driver who had fallen seriously ill; administering vital first aid and calling emergency services to ensure an ambulance was despatched.
The paramedics thanked Steve for his quick actions, which undoubtedly helped save his stricken colleague's life.
Read more
Tranter, 20, was awarded the Young Driver award for his dedication to encouraging other young people to consider logistics as a career option by representing EV Cargo at truck shows and public events.
After joining the company as an apprentice and completing his training in August 2019, he became an HGV driver covering routes across the UK.
Andy Humpherson, EV Cargo Solutions chief executive, said: "Steve and Luke are skilled drivers and excellent ambassadors for the EV Cargo brand, successfully representing our business on a daily basis.
"We are delighted that, out of a high-class field, they have been recognised for their skills, awareness, and commitment to the company, the industry as a whole and their fellow driver colleagues."