A disorderly Brexit could see the UK logistics sector suffer losses of £6.7bn a year by 2024, according to a report published today (6 March).
The report, from workforce management consultancy Quinyx, compared the predicted growth and economic output of the UK's logistics sector blue-collar workforce under both a disorderly and an orderly Brexit scenario.
The study defines a disorderly Brexit as one in which the UK either leaves the EU without an agreement or delays its departure in an attempt to arrive at an agreement.
An orderly Brexit is one in which the UK and EU sign a Withdrawal Agreement and seal new trade agreements within 2-3 years.
It is also assumes that new trade agreements between the UK and other major trading partners are also established before 2024.
Read more
The research found that under an orderly Brexit the increase in economic output generated by the UK's logistics workers in manual roles would be £9.8bn a year by 2024. This compares to just £3.1bn under a disorderly Brexit - a 68% reduction equating to a loss of £6.7bn a year.
These losses would largely be generated by a lack of access to manual workers from the EU, the report says. It adds that 62% of UK logistics businesses predict that leaving the EU will negatively impact their ability to hire truck drivers, packers and warehouse workers.
It warns that some regions will be hit harder than others with London, the East of England and the South East seeing the greatest fall in both available workers and economic output under a disorderly Brexit.
The research, which looked at the Office of National Statistics' labour force data and included interviews with senior decision makers in more than 100 logistics firms, also found that under any Brexit scenario employers in the sector expect to lose around 21% of their blue-collar workforce.
Despite this, 16% of logistics businesses have no post-Brexit plan for recruitment, the research found.
With 38% of employers in the logistics sector already struggling to recruit and 44% reporting retention problems, the report warns that logistics firms need to address issues such as unsociable hours, low pay and a lack of progression to attract and retain these workers.
Mansoor Malik, Quinyx MD (pictured), said that if employers are to ride this potential major shortage of workers they need to take introduce more creative ways to attract and retain motivated workers.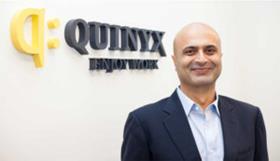 He said: "If they are to improve retention employers need to listen to their workers. It is not just about wages, there are other aspects that are important and compelling such as flexible working that take into consideration the needs of individual staff, such as working parents and those close to retirement.
"As we enter an environment where there may be significant labour shortages this is an opportunity for employers to up their game, and dig deeper to understand what it is their employees want."