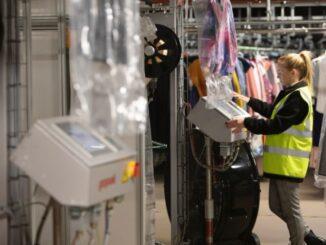 Clipper has signed a deal with kidswear retailer Polarn O. Pyret (PO.P) to support its second hand clothing service.
The contract will see Clipper provide the Swedish company with enhanced reverse logistics capabilities including rapid turnaround, quality control, relabelling, steaming, pressing, repair services, quality checks and product photography.
PO.P, which produces and distributes baby and childrenswear throughout the Nordics, UK and the USA, is aiming to help reduce the 350,000 tonnes of clothing that enters the UK's landfill sites every year through a new buyback and resell scheme, dubbed PO.P Second Hand.
The service, launched this month, offers customers a hassle-free returns and buyback process.
This is Clipper's latest deal with PO.P. The logistics firm began working with it in March 2012 with an initial four-year contract at Clipper's Ollerton facility.
Read more
Since then, the operational footprint has grown by 140%, with a 400% increase in average weekly units. Clipper is now responsible for managing PO.P's e-commerce and returns within the UK and southern Ireland, alongside store distribution for 15 stand-alone stores and concessions.
Mats Nilsson, UK MD at Polarn O. Pyret, said: "Our mission has always been to produce excellent quality clothes that last. Our garments should be owned and worn by at least three growing children.
"PO.P Second Hand will allow us and our customers to extend this goal even further, and keep these clothes going round and round, just like our planet. It's the future of fashion.
"Clipper's specialist capabilities have enabled us to scale this unique service, making it accessible across our entire product range, to all our customers."
Tony Mannix, Clipper chief executive, added: "For over ten years, we have seen exceptional growth with PO.P. We are thrilled to support them further on their sustainability journey, as they commit to circular fashion.
"Our work with PO.P demonstrates our ability to truly add value to businesses through understanding their strategic direction and growth aspirations."