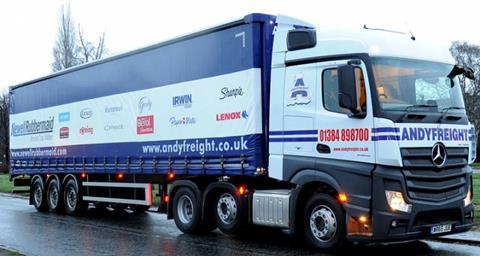 Lye-based Andyfreight is looking to recruit staff and expand its premises after seeing demand soar by more than 44% during the pandemic.
The family firm has purchased two derelict warehouses close to its existing Lye premises to create extra warehousing space and yard facilities for an additional 30 articulated vehicles.
Andyfreight will also use the additional space to increase its barcode and scanning capabilities to help manage stock for customers, as part of wider plans to expand beyond its core freight service and grow its warehousing operations.
The project was financed via a £1.5m finance package with Lloyds Bank.
Andyfreight, which delivers to retail outlets including Tesco, Aldi, Screwfix and Sainsbury's, has seen a surge in demand for hygiene and cleaning supplies from its customers.
The firm has had to ramp up its capacity by up to 44% to meet demand which has ranged from delivering an average of 900 pallets per day to as much as 1,300 pallets per day.
As a result the company, which employs 55 staff is looking to take on more employees.
Andrew Pountney, MD at Andyfreight, said: "We've been growing continuously for a number of years now and the new development was an important next step to help us maintain this rate of growth.
"It means we can meet the increasing demand we've experienced over the past few months and expand our business into different areas.
David Chance, relationship director at Lloyds Bank, said: "Companies like Andyfreight are so often the unsung heroes of our country, putting in the miles to ensure we have access to the products we need. Their work has never been more important than during the pandemic as they have maintained supply of vital products for the NHS and supermarkets up and down the country.
"We've been working with the team for some time and it is fantastic to see them continuing their growth.
"We will carry on supporting them and other ambitious local firms to achieve their goals as part of our ongoing commitment to helping Britain prosper."