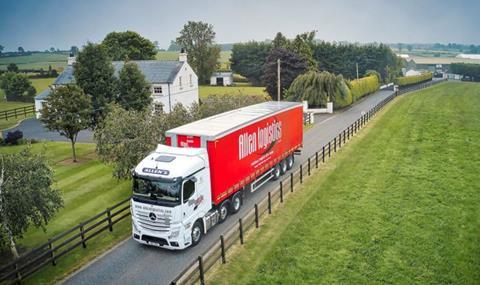 Allen Logistics in Co. Armagh has once again chosen Mercedes-Benz for its fleet additions, meaning two-thirds of the fleet now display the three-pointed stars.
It has taken delivery of two new Actros 2548 tractor units with MirrorCam technology and flat-floored 2.5m StreamSpace cabs and a pre-owned 18-tonne Actros.
The company, headquartered in Craigavon, has been gradually shifting the balance of its mixed-marque fleet in favour of Mercedes-Benz, thanks to what it described as their "bulletproof reliability".
James Allen, Allen Logistics MD, said: "The new units are performing well in terms of fuel-efficiency and the drivers are very happy with them.
"They like their comfortable cabs and the smart new dash layout. They also needed very little time to get used to the MirrorCam system, which we were keen to introduce to the fleet because of the safety benefits it offers."
The 2548 variants are now working between Craigavon and a depot in Lutterworth, Leicestershire and the pre-owned 18-tonner is assigned to palletised distribution close to its base.