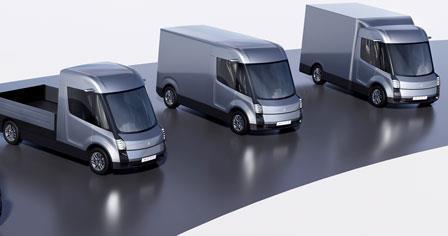 Another zero-emission CV start-up has entered the fray, with plans to offer "truly revolutionary" light electric models to fleet operators.
Watt Electric Vehicle Company (WEVC) said it had designed a "unique lightweight and efficient" 3.5-tonne cab and chassis unit, the eCV1, and it could produce up to 5,000 vehicles a month.
WEVC claimed the eCV1 used its "sophisticated yet cost-effective modular electric vehicle platform" and it had been developed to support manufacturers, specialist vehicle converters and fleet operators in their transition to an electric future.
It said the eCV1 relies on a cell-to-chassis system, meaning batteries are integrated into the primary structure rather than having a separate battery pack.
The novel eCV1 range also features a central driving position and the cabin can be configured as a one-, two- or three-seater vehicle.
Neil Yates, WEVC founder and CEO, said: "Our unique approach to addressing the challenges facing the industry enables the transition to mission-specific, yet cost-effective electric light commercial vehicles.
"We have embraced circular economy principles in the design, manufacture, and operation of our commercial vehicles to specifically align with increasingly stringent corporate and fleet operator sustainability responsibilities.
"The industry is rapidly moving to a zero-emission future, working with WEVC and our eCV1 platform will allow customers to benefit from electrified commercial vehicles tailored to exactly meet their needs."

In recent years, start-ups Arrival, Tevva, Volta and hydrogen truck manufacturer HVS have also promoted their new designs for zero-emission light commercial vehicles.