Rapid advancements in data capability will be a core driver of innovation across the urban logistics sector, delegates to Freight in the City Spring Summit heard yesterday.
"If there's one thing that's really driving the opportunity for our industry to march forward in terms of its efficiency capabilities today, it's the big data revolution," said Peter Harris, director of sustainability for Europe at UPS.
"The opportunity for technology to enable us to crunch data in a way that wasn't available just a few years ago," Harris added.
UPS has been using its Orion (On-Road Integrated Optimisation and Navigation) system since 2014 across its US operation to analyse delivery drivers' daily multi-stops and optimise the best route to take.
The system has enabled the parcel operator to reduce each driver's average distance by seven miles per day.
Across the whole of the US driver-force, this has reduced annual journeys by 100 million miles, slashed 100,000 metric tonnes of CO2, and saved 10 million gallons of fuel.
Rolling laboratory
UPS has also been using its scale to enable it to take the lead in trialling the latest vehicle technology and fuels on the market.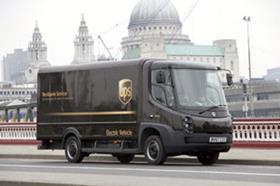 Its "rolling laboratory" of more than 8,000 alternative fuel lorries and vans have now travelled more than one billion miles worldwide.
This has enabled the parcel firm to map the technologies it feels are most suited to each of its operations, focusing on duty-specific application of individual fuels.
Its Alternative Technology Vision is a strategy for each of its urban operations, ranging from city-to-hub feeder routes using biomethane trucks, through to a truck-free future in the densest urban areas.
In these central-most zones, the parcel firm revealed a plan to expand out the successful urban logistics model in place across Hamburg.