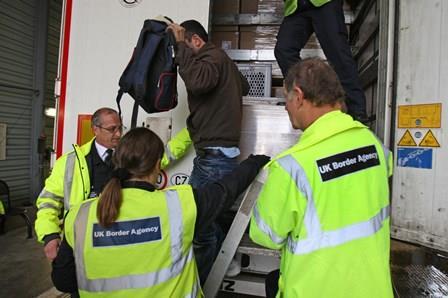 Automatically treating HGV drivers found with stowaways in their vehicles as suspects in a criminal investigation is "a troubling development" amounting to an assumption of guilt, according to a transport lawyer.
Chris Powell, associate solicitor at Rotheras, said a policy change by the police following the deaths of 39 migrants hidden inside a trailer in Essex would make lorry drivers' lives more difficult as a result.
Powell was commenting following confirmation by Essex Police that it had overturned the procedures for dealing with drivers found with stowaways on board.
The move came as four men were found guilty at the Old Bailey of their involvement in a people smuggling ring, which contributed to the deaths of 39 Vietnamese men, women and children in October 2019.
An Essex police spokeswoman told motortransport.co.uk that contrary to national press reports, HGV drivers would not be immediately arrested in the future.
However, she said that they would "be treated as a suspect in any case in which a person or group of people are found to be in their trailer.
"We've been at the head of changing this policy across the country, so that hopefully any similar criminal networks can be spotted at earlier opportunities," the spokeswoman added.
"We understand that this is not the majority of the haulage community – who are hard workers, earn an honest living, and were keen to help us with this investigation – but it has been necessary to better our processes and policies following the tragedy."
Powell said lorry drivers were already having to contend with extremely challenging working conditions due to the pandemic, the end of the Brexit transition period and the longstanding migrant crisis in Northern France.
He said: "According to this new policy, they will now also face the prospect of an automatic criminal investigation if they are unfortunate enough to be the unknowing victim of a migrant break in.
Read more
"Clearly, if there is a clear reason to believe that a driver has been knowingly involved in people smuggling then a criminal investigation and prosecution should rightly follow.
"This will be the exception and not the rule however.
"The existing UK government civil penalty scheme for the carriage of clandestine entrants is founded on the recognition that, in the overwhelming majority of cases, lorry drivers have no idea that stowaways have broken in and concealed themselves in the trailer.
"This is why it is a civil and not a criminal scheme."
Powell added: "International lorry drivers have played a vital role in keeping the country supplied during an extremely challenging year.
"This policy change by Essex police will make a difficult job even harder."
Logistics UK said it hoped the move would provide a strong deterrent to criminal networks seeking to target hauliers.
Alex Veitch, Logistics UK general manager of policy, said: "Logistics UK fully supports any measures which reduce or eradicate the operation of criminal activities across the road haulage sector – of course it is vital that any suspect is treated as innocent until proven guilty.
"As well as criminal processes, the industry's regulators – the traffic commissioners – can consider whether a heavy commercial vehicle driver has acted in a reputable and responsible way, and may take action against their vocational entitlement if it is deemed that they have not; this can include up to measures up to disqualification."
Following the Old Bailey trial, the president of the Irish RHA said it was inevitable that more deaths involving migrants being smuggled in lorry trailers would occur.