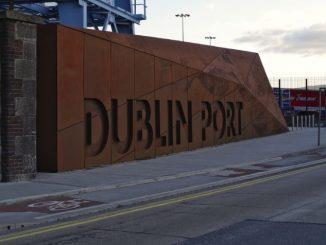 Trade volumes into the Republic of Ireland (ROI) from Great Britain fell 50% in January compared to the same month last year, the Irish government revealed this week.
The operational update said "some" businesses of all sizes are experiencing "severe difficulty" in adapting to the new Brexit customs controls and suggests firms ensure all paperwork is in order and that supply chains fully understand the new customs rules.
It also suggests firms consider alternative routes to EU markets or look at switching from British to EU suppliers.
The report said that despite the initial fall in volumes there is a "slow and steady" increase in freight vehicle movements into Ireland from Great Britain – from 61 inbound movements on 1-2 January to a peak of 1,334 on 28-29 January.
"There was an approximate 11% week-on-week increase in freight vehicle movements into Ireland from GB when we compare this week with last," it adds.
The report said there are a number of factors contributing to the fall in volumes including Brexit stockpiling, Covid-19 restrictions, new Brexit checks and controls and the emergence of new direct services with additional capacity on European routes – with freight volumes on these services are up 100% on last year.
It urges businesses to ensure they prepare their paperwork ahead of time and accurately to avoid delays.
Read more
Last month hauliers reported at least 30% of trucks being stopped at Dublin Port towards the end of January. The operational report claims this figure has since fallen to 20%.
It said the Irish government "fully acknowledged" the challenge the new Brexit checks create for traders adding there are "ongoing intensive engagement" between government departments and stakeholder groups including hauliers.
Last month the Irish customs authorities were criticised by ROI, NI and British hauliers Northern Ireland and Britain for applying customs checks far too rigorously and well above the minimum levels required by the UK-EU trade agreement.
Hauliers staged a protest at Dublin Port and industry representatives delivered a letter to the government calling for delays to be minimised or risk undermining the ROI economy.
The report said new custom formalities, such as agri-food controls "mean that the seamless trading arrangements that pertained until the end of 2020 no longer exist" and called on businesses to minimise delays by submitting "timely and accurate" information.
The report also revealed Irish revenue authorities have processed around 760,000 import declarations of various types, including safety and security declarations.
Additionally, approximately 155,200 export declarations for movements to Great Britain were also processed.
In addition, a total of 7,230 calls to Revenue's 24/7 Customs Helpline were answered from 1 January to 27 January.