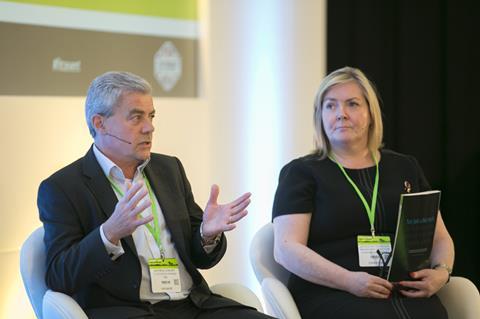 TNT has said the industry needs to "future-proof" itself against changing urban legislation, as it has done with the cargo bikes it has rolled out across the country.
Andrew Lowery, TNT's city logistics and public affairs manager (pictured, left), told Freight in the City Expo delegates yesterday: "We're taking this specific strategy at the moment rolling out cargo bikes and electric cargo bike solutions in cities across the country, in an effort to future proof against all the legislation that's coming in: the clean air zones, the low emissions issue, etc."
However Lowery added that the use of bikes for final mile deliveries was just "one of many solutions we need to look at in order to overcome the challenges we're going to face".
This, he said, did not just apply to London, where focus on emission lowering legislation often falls.
"This will be country-wide", he said. "I don't think it's just London. London is a mature environment, but the other cities are catching up."