A freight trial in the Swedish city of Stockholm has identified both business and environmental benefits from the use of out-of-hours delivery patterns.
The Off Peak City Distribution trial, led by Sweden's KTH Royal Institute of Technology, saw two trucks receive an exemption to the current night-time delivery ban in place from 10pm to 6am in Stockholm.
Researchers wanted to see if lifting the ban would drive operational efficiency for hauliers and businesses receiving their goods, as well as congestion-busting and air quality benefits from removing freight vehicles from rush-hour.
The trial
Volvo supplied a parallel hybrid (diesel-electric) FE model fitted with a geofencing device that enabled the truck to switch to quiet, clean electric operation within urban areas.
This was used for dedicated deliveries for supermarket Lidl, travelling 30km between its warehouse in Roserberg and three city centre stores in Stockholm.
A second HGV, a biogas-fuelled Scania R480 (pictured below), was used to transport consolidated goods for Swedish foodservice supplier Martin and Servera to a number of city centre hotels and restaurants.
Both were fitted with noise-reduction equipment, such as silent roll cages, and noise sensor technology.
Anna Pernestål Brende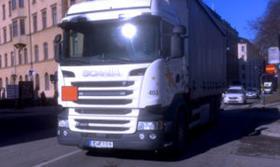 n, a researcher at KTH's Integrated Transport Research Laboratory, said ordinarily the Lidl warehouse would deploy several fully-loaded trucks to make deliveries during peak morning rush hours between 6am and 8am, because it was too difficult for a single vehicle to make all the drops in such a short time window.
But in the study, a single truck delivered goods to three stores in central Stockholm between the prohibited hours of 10pm and 6am. It would return to the warehouse three times in the night to be reloaded, and then make its subsequent delivery.
Pernestål Brenden said. "That's one truck doing the work of three, or in other words – morning commuters are spared having to share the road with three heavy duty trucks."
The truck on the dedicated Lidl route was found to have a driving speed in off-peak around one-third faster than in the morning peak (31%).
Meanwhile, the Scania working to deliver to multiple city centre hotels and restaurants, was found to have a driving speed 59% higher than in the afternoon peak, as the routes could be planned more efficiently as they did not have to factor in congestion.
Enjoy the silence
On the noise pollution front, the trial wanted to examine whether deliveries were a nuisance to residents.
Drivers all had to follow special rules to ensure the quietest of night-time deliveries, such as no reversing alarms and no talking on mobile phones outside the vehicles.
"It turned out that the noise people complained about was caused mainly by unloading the truck, not driving," Pernestål Brenden said.
KTH acoustics researchers created a sound recording system that placed microphones in the front and back of the truck.
The front microphones would record when the truck was getting unloaded, so that neighbourhood background noise could also be taken into account.
This allowed researchers to evaluate the mix of sound from both vehicle and environment and give a true picture of what difference the unloading of the vehicle actually made.
They found trucks unloading within city centre environments were not noticeable to residents, with only those in one quieter, outer suburb experiencing noise disruption.
Though it was a small scale study, KTH said there was a strong indication that scaling up off-peak deliveries could increase efficiency for businesses, reduce fuel consumption and CO2 emissions and make a positive impact on traffic volume during peak hours.
Pernestål Brenden said: "By making small changes, we can improve transport efficiency, reduce congestion, and enable new business models for goods receivers."