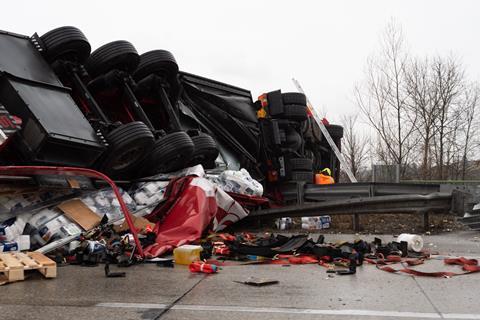 Bulgaria, Poland and Czechia are home to the most hazardous roads in Europe, according to analysis of fatal HGV collision rates by smart payment provider SNAP.
Its research placed Bulgaria in the top spot, with more fatal truck collisions per year (369) than Poland and Czechia – also known as the Czech Republic - combined.
Romania, Lithuania and Germany were ranked fourth, fifth and sixth respectively. Great Britain was ninth, with 118 annual fatalities.
SNAP said 40% of all fatal HGV collisions in the EU occurred in rural areas and suggested road safety infrastructure developments needed to extend past motorways.
Conversely, the countries with least dangerous roads for lorry drivers included Denmark, Austria and Sweden.
Mark Garner, SNAP MD, said: "We have created the new hazard rating so we can warn drivers of the most treacherous roads to be driving on in Europe.
"But the harsh reality is that there are no safe zones. All roads across the continent carry inherent risks, and drivers need to be continually resilient to changing driving conditions and in-country laws and regulations.
"We recommend that drivers familiarise themselves with road laws and their planned route in advance of setting off."