DBL Logistics has partnered with the University of Sheffield to provide on-the-road fleet data to help academics shape a new online tool that could help slash the supply chain's carbon footprint.
The cloud-based SCEnAT+ system uses the latest Microsoft modelling software to create sector-average benchmarking for companies' CO2 emissions, which operators can compare their own performance against.
David Clarkson, MD at the Sheffield-based family firm (pictured), said: "The benchmarking is obviously of keen interest to our sales director because if you can benchmark yourself against a competitor and it shows we are far more sustainable, this puts us in a stronger position."
Using this benchmarking, the SCEnAT + system produces a traffic light report for operators to highlight which areas require action to improve their carbon impact and which are performing above the norm.
DBL said its work with the university has been a "real eye opener" to demonstrate ways the business can not only improve its CO2 impact, but also drive economic efficiencies.
The company has been feeding both digital and paper-based operational data from its day-to-day road freight activities across the Sheffield region, such as routing, driver performance and fuel usage.
As a result, DBL's own traffic light report showed how its work as a member of pallet network UPN was an efficient and effective way to reduce road transport emissions.
"It looked at the pallet network model, which I've always been a massive advocate of," said Clarkson.
"We were able to analyse what would have happened if goods were delivered outside of the pallet network model, end to end. We saw that the pallet network model saved a significant amount of carbon per delivery compared with general haulage running."
He added: "I feel that consolidation and the use of the motorway network at night, use of smaller vehicles in urban areas during the day is cost effective and sustainable."
Inefficiencies
However, the SCEnAT system also flagged up to DBL the inefficiencies of running older vehicles on its fleet in terms of fuel consumption, emissions and maintenance and repair costs.
As a result, the company has now opted to refresh its 24-strong trailer fleet with brand-new kit, predominantly SDC double-deck and straight-frame units on contract hire with Specialist Trailer Hire, which includes a tyre maintenance package.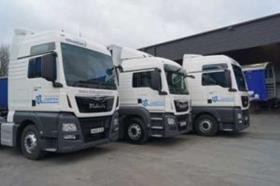 DBL is also starting to refresh its 24-strong tractor fleet, with some "unbelievable deals" from its local MAN dealership, HRVS Sheffield.
It has purchased two brand-new 18-tonners with tail-lifts for its pallet work, and taken on two new 44-tonne MAN TGX 440hp tractor units and one new MAN TGS 26-tonner on contract hire.
Clarkson told Freightinthecity.com he had become a firm advocate of boosting DBL's green credentials since seeing the environmental benefits – saving up to 2.5 tonnes of CO2 per year - and financial returns from the 30kW solar panels installed on the firm's new warehouse at Tinsley Park. In addition, customers are increasingly seeking more environmental efforts from their logistics operators, he added.
"We've seen a bit of a niche where our customers are looking for a more sustainable delivery partner option."
DBL performance
DBL has been growing steadily in turnover in the past five years, last year reporting a 13% rise in revenue to £4.5m for the year ended 31 August 2015. "We're hoping for £5m next year," said Clarkson.
He added that DBL would also be seeking to extend its O-licence by an additional 10 trucks and 10 trailers as volumes continue to climb.
The company is to continue its work with the university, and is hoping to gain private investment or funding to kit out a selection of its fleet with the latest bodywork and alternative fuel capabilities to provide essential data for the SCEnAT+ team.
An open day will be held in March with the university to demonstrate the system's potential.
"My vision, if we look at everything we do and with investment in alternative fuels, is to turn DBL Logistics into a carbon-neutral company. If we did that, it would be amazing because it's unheard of [in a logistics company]."
He added: "It's not going to happen overnight, but that's our goal and why we are working with the university."