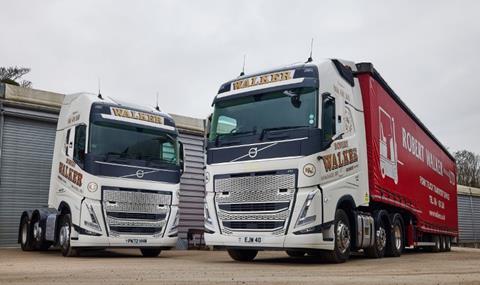 Robert Walker in Stockport said it had guaranteed its drivers maximum comfort on overnight shifts after investing in two new Volvo FH 540 tractor units, each equipped with Globetrotter XL cabs.
Supplied by Thomas Hardie Commercials, the dual clutch FHs join a fleet of 43 HGVs and build on the company's strong relationship with Volvo Trucks.
John Chapman, workshop manager at Robert Walker, said: "We've been firm fans of Volvo since acquiring our first model back in 1999, so we're well accustomed to Volvo's high product quality and driving performance.
"The new trucks may have only joined the fleet a few weeks ago, but our drivers are already heaping praise on the extra space and the creature comforts we've included. We're very pleased with what they have delivered so far."
The trucks' Globetrotter XL cabs have been fully kitted, benefitting from a heated and suspended driver's seat as well as a Drive+ package including electric air conditioning with a carbon filter and sun, mist and air quality sensors, dual armrests and leather upholstery. Comfort is boosted thanks to a reclining bunk with a premium 50mm mattress topper and a luxury sleeper control panel.
"Though our drivers persevered with the extremely high temperatures we saw last year, ahead of this summer we wanted to make absolutely certain that they have all the tools they need at their disposal to ensure a comfortable and cool night's sleep," Chapman added.