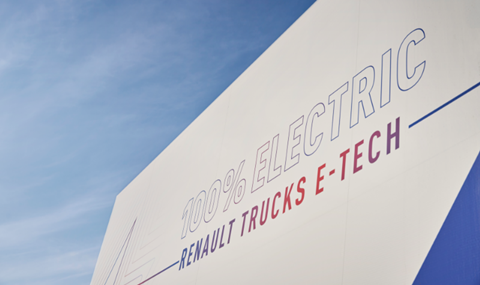 Renault Trucks' heavy duty, all-electric range has been unveiled ahead of their production at its factory in Bourg-en-Bresse at the end of next year.
The E-Tech T and C are for regional distribution and construction and have a design that is specific to their electric motorisation.
They come with the trademark graphic signature of the brand's electric trucks: blue hubcaps and vertical stripe on the sides of the vehicle and the Renault Trucks E-Tech badge at the front.
They are also fitted with a new Emblem plate in blue plexiglass.
The front of the vehicles has been brought forward by 115 mm and radars have been placed on the sides to increase safety. The chassis is also equipped with a retractable step, maximising the space dedicated to the batteries.
Renault Trucks said its designers had drawn inspiration from the world of electronic music, with a pattern on the revised front panel which it said was reminiscent of an equaliser.
The E-Tech T and C are already available for pre-order and hauliers wishing to purchase an electric vehicle from the heavy-duty range can now reserve the first manufacturing slots.