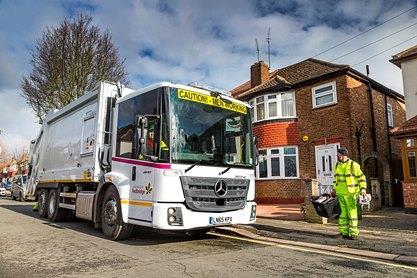 Redbridge Council's first Mercedes-Benz Econic refuse vehicles are "out-performing expectations" in terms of reliability and fuel-efficiency, according to the council's fleet engineer Eddie Cross.
The 16 Econic rear-steer models come with dual-compartment Heil-Farid compactor bodies allowing them to be used to collect two types of recyclable waste at the same time, including glass, paper, plastic and metal, resulting in operational savings.
The vehicles, supplied by dealer S&B Commercials and operated by the council's environmental and waste services partner Amey, are powered by advanced 7.7-litre, six-cylinder engines that produce 300hp and drive through six-speed Allison automatic gearboxes.
They ride on full air-suspension and are equipped with axle weight measuring systems.
"We did have reservations about the move to Euro-6 but the drivers underwent training on the operation of the diesel particulate filters and the trucks have given us no problems at all.
"There were concerns too, about increased fuel consumption, but these have also proved to be unfounded. It's difficult to provide comparative figures for refuse collection vehicles because of the nature of the work. But the Econics are certainly doing far better than we expected," said Cross.