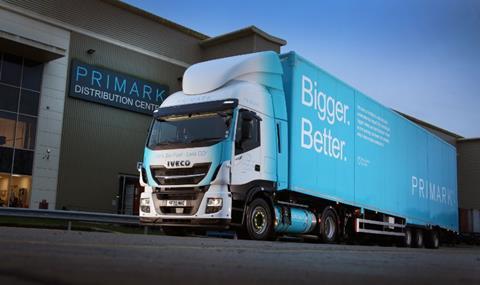 Fashion retailer Primark has added 10 new Iveco Stralis NP 460 trucks to its fleet.
Supplied by Guest Truck and Van, they will be operated on Primark's behalf by DHL.
The trucks will haul a fleet of new longer semi-trailers (LSTs) which were delivered in August last year, as part of Primark's wider programme to reduce fleet emissions.
The new Iveco Stralis NP 460 (AS440S46T/P LNG) 4x2 tractor units will work around the clock to help stores and delivery hubs across the UK prepare for the provisional re-opening of Primark stores in England and Wales on 12 April, and in Scotland on 26 April.
The trucks run solely on Bio-Liquified Natural Gas (Bio-LNG), which reduces fuel consumption by up to 15%, particulate matter emissions by 99% and NO2 pollution by 90%.
Primark said a key factor in choosing the Iveco Stralis NP 460 is the trucks' ability to offer a range of up to 1,600km between refills running solely on LNG.
The trucks are also quieter than their diesel equivalents, producing just 71dB on the PIEK quiet truck scale and can operate in any urban areas in Quiet Mode without breaching any night-time urban noise restrictions - a key consideration for the company's night time and early morning store deliveries.
Read more
The truck comes with a 12-speed Hitronix automated transmission and the Iveco Hi-Cruise GPS-based predictive drive system. Its 460hp 12.9-litre Cursor 13 NP engine also offers service intervals of 90,000km, which minimises downtime.
The company has worked closely with Gasrec to transition to gas powered trucks with drivers undergoing an extensive training programme to ensure that health and safety guidelines are adhered to when refuelling.
Trucks will be fuelled at Europe's largest gas fuelling station, Gasrec's DIRFT (Daventry International Rail Freight Terminal) site at Crick in Northamptonshire.
The station, which is capable of refuelling 700 trucks per day, is situated just off the M1, 30 miles from Primark's Islip distribution centre.
Primark estimates each vehicle will cover 200,000km a year which Gasrec predicts will see the ten new trucks cut their annual CO2 emissions by 1,300-tonnes. Running on Gasrec's sustainably sourced biomethane Bio-LNG, this equates to a reduction of up to 85% CO2 emissions.
Primark regional transport manager, Ant Franks said: "We chose the Iveco Stralis NP for its ability to run purely on Bio-LNG, its impressive range, strong performance during vehicle trials and early feedback from drivers who appreciated its comfort and performance.
"We are really proud to bring these new high-quality trucks into our transport fleet and further boost the sustainability of our transport operations, as we continue to help make a more positive impact on the environment."