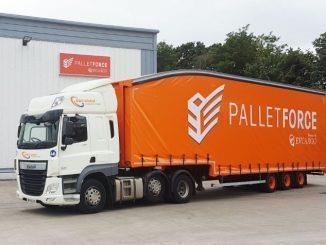 Palletforce is set to continue to grow its UK and European volumes this year, despite the challenges of Brexit and the pandemic, chief executive Michael Conroy told motortransport.co.uk this week.
He said Palletforce's volumes bounced back to record levels by December last year, outstripping the previous year's volumes by 20%, after plummeting 30% in April at the start of the pandemic lockdown.
Speaking following the publication of its latest financial results, Conroy said: "Although we were hit by the pandemic and our volumes dropped by 30% in April we reacted very quickly and by May volumes were back up 30% and continued to climb."
He added that investment in staff and in technology, combined with the quality of its members and the additional Superhub capacity helped Palletforce recover quickly from the initial shock.
It also benefitted from members quickly expanding into new markets such as the e-commerce, food and drink, medical and PPE sectors.
"These volumes are not going to disappear. Digitalisation has made it so much easier and has accelerated our growth," Conroy said.
He also praised his members and staff for their resilience.
"Our warehouse staff and drivers have never stopped through this pandemic. I am very proud of them – they have delivered this success."
Read more
Turning to Brexit and border delays, Conroy said Palletforce had encountered "some difficulties" but said the network had coped well, thanks to support from international parent company EV Cargo and Palletforce's preparations last year which saw it create a Brexit Taskforce and provide online webinars and weekly Brexit Bulletin updates for members and customers.
Palletforce's cross-border model and its close collaboration with its European partners is also helping the company navigate its way through the challenges the new trade deal brings, he added.
He said: "There has been a lot of pressure and our people have had to work very, very hard to maintain a fully functioning European service.
"However, whilst we did not have to suspend our services, like some were forced to, we have seen a short-term loss of EU volumes - but we are recovering slowly.
"I think it will take two quarters to recover but I believe going forward we will see some new opportunities open up for us, so I am very positive."
Conroy said a lack of preparation by government agencies had not helped the situation at the borders.
He added: "These are tough times, the government did not provide the rules early enough, some customs centres do not seem fully prepared and there is confusion with customers and consignees around paperwork and what is needed."
Palletforce's results for the 15 months to 31 December 2019 reveal a revenue rise to £156.1m, compared to £109.8m in the previous 12 months. Operating profit rose to £8.5m (2018: £4.5m) whilst underlying EBITDA was £9.8m compared to £5.2m in the previous 12-month period.
The company attributed the rise in revenue in the period to growth in pallet volumes, rising international trade and the expansion of cross-dock services at the network's Superhub in Burton upon Trent.