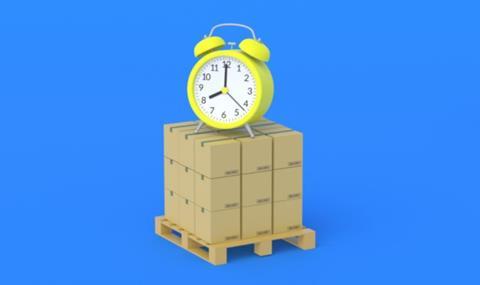 Hauliers and drivers have criticised major retail customers for disrupting their schedules with excessive delays and called for them to be penalised.
"One area that has been a big thing for me over the years is the waste of resource we all face when our trucks are sat at delivery points, loading points and RDCs for hours and hours," John Sheard, MD of JMS of Doncaster, told MT.
"Every day we deliver to the large retailers of this country and we are given strict booking times. It makes zero difference - our trucks and drivers are held up every day for hours and hours."
"I think these big companies should have a taste of their own medicine. Let's penalise them for their own inefficiencies. This will surely focus them to improve."
A Pallet Track member, JMS operates 40 trucks nationwide and inputs and receives 600 pallets a day.
Sheard added that the driver shortage crisis was also having a major impact: "I have never known the situation be as bad as it is currently, and I don't see it improving anytime soon," he said.
His comments came after driver and former transport and depot manager Tim Shenton told MT that hauliers need to unite to challenge some of the major supermarkets and other retail giants for unacceptable delays and poor welfare facilities.
"It can be a six-hour wait," he insisted. "Or they haven't got a bay free and the whole warehouse is empty. And the facilities for drivers are atrocious. They're using the excuse of Covid to not open toilets or even washing facilities.
"John Sheard has summed it up perfectly. I've been to good RDCs – Wilco is brilliant. You take in the paperwork and you're done in 10 minutes, no problem, and you can use their facilities.
"So there are good ones but the lion's share are bad, and it's some of the major players. I delivered children's clothing to a supermarket in Gloucestershire recently and was waiting two-and-a-half hours for the paperwork. I told them the kids would be be grown up by the time they got their clothes."
Sheard agreed that the time had come for offending retailers to be penalised. "We should tell them that we'll book our times, not you," he said. "We'll turn up when we're ready. Then people might appreciate what drivers actually do, whether it's pallets or a guy driving a DPD van.
"Distribution centres are wanting to deliver at 2am and we need to get a grip on that. If they want that they should pay more for a pallet to be delivered. But that isn't going to happen. The problem is that the east Europeans came here and slammed the rates to nothing.
"But the problem is how do you penalise retailers? Because they'll just ask someone else to supply transport. So it's got to be a united front. The unions don't have much strength any more."
Shenton added that the problem had been worsened by the surge in online deliveries, partly created by the pandemic.
"We need to get away from this 24-hour shopping culture for both food and consumer goods," he said. "It's created a monster. Look at Amazon.
"I'm not sure how we get out of this vicious circle. The rates should be set by the transport companies and not by what the customer is willing to pay. In reality we need to cut off the serpent's head and get back to realistic pricing. Only yesterday I was talking to a guy who gave up driving a 7.5-tonne truck to drive a van for a facilities management company on the same money - just going round the site in Cheltenham emptying bins.
"I was offered a full-time job this week but my agency won't release me for 13 weeks. They admitted they had no drivers, they're desperate for them.
"The issue is the money. I'm on £14 an hour, but some are being offered £25, some are offering £11. My friend works for a tanker company in the North East. He earns just under £9.50 an hour.
"There are better jobs about but you've got to travel or be prepared to be be away up to four nights a week. I don't want to do that anymore."