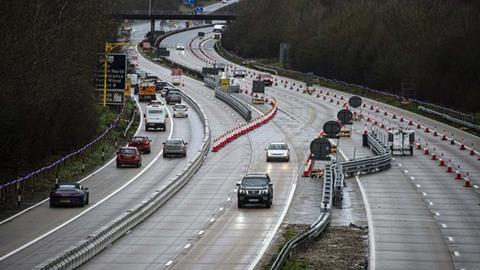 Operation Brock is back in action on the M20 in Kent as of today (Monday 19 July) to avoid delays caused by heavy traffic created by holidaymakers hitting the roads.
The contraflow system, which was initially designed to prevent major hold ups on Kent roads in the event of a no-deal Brexit, was removed in April, but has been reinstated today to cope with high levels of holiday traffic expected as lockdown restrictions ease and foreign travel becomes easier.
Operation Brock legally requires HGVs and other freight heading for the Port of Dover or Eurotunnel to use the coastbound carriageway on the M20, where it will be queued if necessary.
All other traffic, including local freight and car drivers headed for the continent, is directed to cross over to enter the contraflow on the M20 London bound carriageway.
Nicola Bell, regional director of Highways England, said: "The lifting of the lockdown restrictions will inevitably mean more travel across to France from 19 July and, we, along with our Kent Resilience Forum partners, have taken the decision to reinstall the moveable barrier on the M20 to prepare for this.
"We know that some people won't welcome its return, but we need to be prepared for an increase in not only HGVs but also in passenger traffic. We feel it is the right decision to redeploy the barrier in case it is needed to keep Kent moving should levels of HGVs and cars heading to the border be high. The deployment will be kept under constant review and we will remove it as soon as we can."
Kent County Council's highways director Simon Jones added: "We believe that this is the right thing to give people the best opportunity to reach their destination quickly and safely."