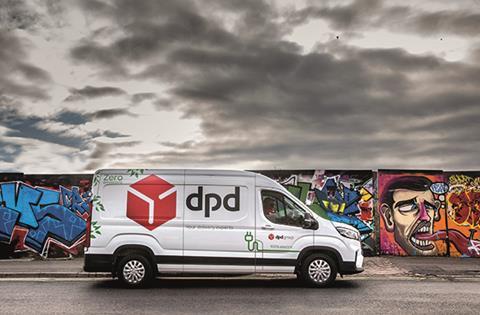 DPD UK
DPD continues to transform its urban operation with more micro depots and the wider deployment of its all-electric fleet – 10% of the fleet now operates emission-free. DPD's 25-25-25 strategy to decarbonise all deliveries in 25 UK cities by 2025 is under way with diesel vehicles taken off the UK's streets and unproductive mileage slashed to create a more efficient operation. This will lead to 42,000 tonnes of CO2 savings or the equivalent of planting 170,000 trees by the end of 2025.
DPD will also invest £111m in boosting its all-electric fleet to 3,500 vehicles in just four years' time. Through a pioneering approach, DPD has sourced all-electric vehicles from China and Norway, developed an innovative eCargo bike and has started taking delivery of 750 Maxus eDeliver vans, ensuring it continues to deliver clean and green in the urban environment. To support its electric vehicles, the business has also invested in depot charging infrastructure and helping its drivers install at-home chargers (supported by the government's OLEV grant scheme).
In 2020, DPD launched Project Breathe, the first mobile air quality monitoring project of its type. It fitted more than 100 laser sensors to its all-electric fleet in London and 20 of its Pickup shops to measure air pollution at street level every 12 seconds.
The judges said: "DPD is already a long way ahead on its sustainability journey; very impressive commitment to decarbonisation."

Hovis
To mitigate the environmental impact of deliveries in urban areas, Hovis developed a Convenience route to market for its urban and inner city customers, which was separate to its daily delivery network. A key part of this strategy was the creation of a smaller 7.2-tonne delivery vehicle, with a competitive 3-tonne payload and improved access for drivers to make kerbside deliveries easier and safer.
Based on an Iveco Daily chassis, the vehicle is fitted with a specialist body that includes a side loading door to remove the need for a no-sit tail-lift at the rear. The smaller vehicle makes access to narrow streets and shop rears easier, while it is not perceived as a large truck by the public. It also has enhanced nearside visibility to boost the safety of vulnerable road users. Like all vehicles on the Hovis fleet, the urban delivery truck runs on HVO, which has slashed CO2 emissions by approximately 92% compared with diesel.
There are 50 Convenience vehicles in operation, with Hovis planning to expand this by another 15 this year. In addition to the new urban vehicle, Hovis has also implemented changes to delivery schedules in collaboration with its customers to remove approximately 253,000 road miles a year.
The judges said: "Impressive innovation shown. Very strong submission with full emphasis on improving fleet impact on key urban issues such as emissions, noise, congestion and safety."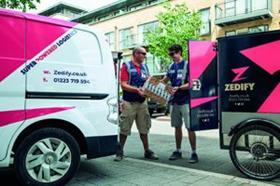 Zedify
Zedify is on a mission to transform urban logistics and create healthier, more liveable cities of the future. It operates a light electric fleet of more than 90 cargo trikes, bikes and quads, which it says saves 98% CO2 per km compared with diesel vans.
It also has an expanding network of 10 hyperlocal micro hubs in cities across the UK, providing an alternative for businesses that want to contribute to cleaner air and tackle the climate crisis. The hubs act as a gateway and consolidation centre for small items coming in to and out of the central urban area. Zedify's collections and deliveries are focused within a compact city-centre radius, usually three miles, enabling the operation to use specialist vehicles optimised for the urban environment. This approach means the business can offer chosen delivery windows to customers. By consolidating deliveries into a central hub, efficiency of the last mile is greatly enhanced, with both collection and delivery rounds combined to reduce wasted stem mileage.
The company has developed a real-time technology platform to optimise its routes and enable key sustainability reporting for customers, such as emissions saved per journey. Zedify pays the National Living Wage to all its drivers.
The judges said: "The NPS score was one of highest ever seen; punching well above its weight for a smaller operator and a great customer experience demonstrated."