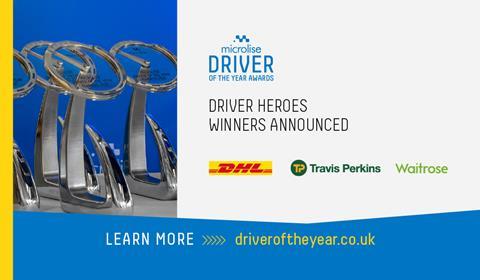 Drivers from DHL Supply Chain, Waitrose and Travis Perkins have been recognised for going above and beyond when faced with potential human tragedy on the roads.
The Microlise Driver of the Year driver hero awards have been announced following a data analysis process, employer corroboration and assessment by an independent judging panel.
Knights of the road Lee Clempson and Daryl Braddock from DHL Supply Chain prevented a woman intending to jump from a bridge onto the A30 in Cornwall and took care of her until the police and an ambulance arrived.
Waitrose driver Ryan Roser noticed a woman lying motionless underneath a bridge over the M26 and was able to warn other road users and pull her to safety, check her pulse and call for an ambulance.
Microlise said the woman sustained serious injuries but made a full recovery.
Paul Moorhouse, who makes customer deliveries for Travis Perkins, reacted with split-second timing when an anxious woman ran out of her home with a baby in her arms that was blue and rigid.
Moorhouse calmly checked the infant's airwaves and removed the blockage, allowing the baby's breathing to resume.
He said he had been the wrong person in the wrong place for most of his life, but on this occasion he was meant to be where he was on the day.
Nadeem Raza, Microlise CE, said the judges, which included MT editor Steve Hobson, found it impossible to separate the inspiring drivers and teams: "The Microlise Driver of the Year Awards highlight drivers who act with great courage and presence of mind when faced with challenges on the road," said Raza.
"Our winners have clearly shown how lives can be saved through sheer bravery as well as through quick-thinking, empathy and training."
Footage of Moorhouse's extraordinary intervention can be watched here: https://www.youtube.com/watch?v=-A1KxR0d4TU