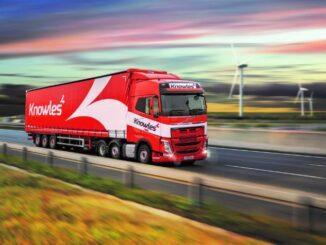 Significant investment by Knowles Transport in 2021 as part of a long-term growth plan dented profits, but the company still increased revenues and said it was in "an excellent place" for the future.
Turnover for the year ending 31 December 2021 increased by 2.3% to £39.2m, compared to £38.4m in 2020.
Pre-tax profit reduced by £1.4m to £1.1m during the period.
In its business review, the Cambridgeshire haulier said it continued to generate positive results, although it acknowledged they were at "a more modest level to 2020".
Read more
However, it pointed out this was due to its significant investment across its transport and warehousing operations and the company said the returns from this would be realised in the next financial year: "The results are not unexpected and are part of the long-term strategic plan to grow the business," it said.
"Whilst sales growth continues, the company has seen an increase in depreciation costs as a result of the significant capital expenditure in recent years.
"Overall, the directors are pleased with the results and the future prospects of the business and believe they are in an excellent place to further solidify their prominent position in the ambient food and drink logistics sector going forwards."
Earlier this month, the company announced it had acquired a 100% shareholding in 3PL Masters Logistical.
Knowles Transport said the purchase marked "a significant milestone as the company continues to grow and strengthen their position within the market."