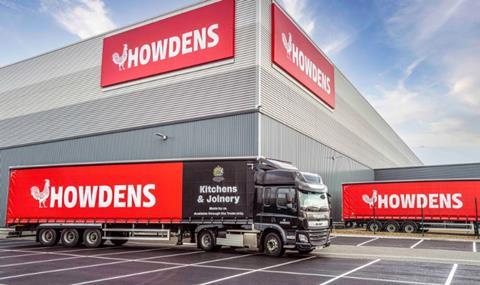 Kitchen supplier Howdens said a vital ingredient for its sustainability strategy is hydrotreated vegetable oil (HVO), which it is now using extensively across its logistics fleet.
It is also piloting electric trucks and is introducing six bio-liquid natural gas vehicles at its Raunds and Portbury sites, which work similarly to diesel vehicles but with an 80% reduction in CO2.
MT Awards shortlisted Howdens said it is committed to buying 350,000 litres of HVO before the end of 2022, with plans to increase volumes in the coming years.
Produced using hydrogenation and hydrocracking of vegetable oils and animal fats, HVO fuel produces 90% less CO2 than diesel per litre.
In addition, a DAF electric truck is now being trialled and Howdens aims to be running at least three EVs across its sites by 2023.
The vehicles will be used on its XDC next day delivery service, with a 150-mile range.
Gareth Sterland, Howdens head of transport, said: "The move towards HVO, LNG and electric vehicles demonstrates our commitment to CO2 reduction across our expanding fleet and network.
"At Howdens, we understand what we must do, and we will absolutely deliver on our carbon reduction promises."