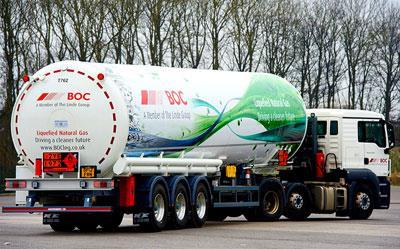 Hauliers have been forced to park up their LNG-fuelled lorries after gas supplier BOC withdrew from the UK market.
Robert Gilmour, transport manager at Lesmahagow-based GBT Group, said: "BOC stopped supply about a month ago.
"We heard rumours they were going to stop and then they said, we're pulling out of it [LNG] completely."
The company fitted a BOC mobile refueller in 2018 for its LNG trucks and Gilmour added: "BOC are removing the tank; it's disconnected, we're just waiting for them to collect it.
"We have three gas trucks on the fleet, parked in the corner of the yard – they are not worth anything.
"We have asked LNG suppliers for a solution, but we just get fobbed off."
Andrew Malcolm, chief executive of Malcolm Group, said it had stopped its trial of LNG trucks due to BOC's decision: "We have been doing five vehicles on trial with LNG; we were going down the route to buy two ex-demonstrators from the trial plus we have one truck ourselves," he said.
"We have temporarily suspended the trial and we have had to park that truck against the fence.
Read more
"We were on the verge of starting to order a number of LNG trucks going into the last quarter of this year into next year."
Malcolm said it would revisit the trial in six months, but he added: "The problem is we have no imminent supply and there is nothing north of Boroughbridge just now, which is quite concerning when we are all trying to do our best to move forward with alternative fuels.
"We are still committed to continue with it but there is no point having an LNG truck if you haven't got the supply."
Gas supplier Gasrec told motortransport.co.uk it was looking to work in Scotland and was in discussions with local operators, but chief commercial officer James Westcott also said: "Our focus is going to be in providing the right kind of infrastructure for the longer term.
"The big challenge is now not the trucks but the infrastructure.
"Small container sized facilities are not necessarily the best solution for the medium to long term."
BOC confirmed it had now withdrawn its LNG supply from the UK market but it was unable to provide any further comment as we went to press.
• Gasrec said it had doubled the sales of biomethane across its commercial vehicle refuelling network during Q1 2021. It said it was now supplying seven times more biomethane to the road transport sector than at the start of 2019.
Gasrec added that sales of Bio-LNG from its Daventry site grew by more than 250% in the last 12 months.