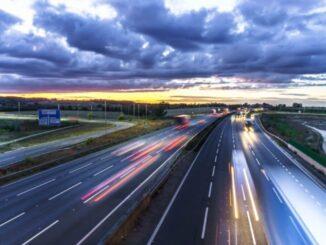 The haulage price-per-mile has fallen nearly 2% year-on-year and 3% month-on-month, despite diesel prices rising 12% in the last year.
Latest data from the TEG Road Transport Price Index showed the average price charged by haulage drivers and companies in February fell for the second consecutive month.
The year-on-price was also down, despite meteoric rises in inflation and operational costs over the last year.
Haulage prices in February were 3% lower than in January, and 2% down on last February's figures. This was their lowest level since March 2021.
Analysts said the data showed that despite cost and workforce pressures, haulage companies are still holding back their prices. But with the Windsor Framework potentially signalling closer cooperation between the UK and EU, hauliers will be hoping for an economic upturn and higher profit margins in the near future.
However, over the past year, courier prices have risen by over 10% year-on-year. Although in February they fell by 4% with consumer spending growing slowly and focusing more on services than material goods relying on haulage/courier services.
The research also showed demand for lower and zero-emission vehicles is growing as the sector prepares to make the transition, hastened by fuel price volatility and the Russian invasion of Ukraine.
Read more
There are now seven clean air zones in the UK, with Sheffield becoming the latest addition. The EU is also calling for a 90% reduction in truck emissions by 2040, which will affect many UK-based companies, regardless of Brexit.
Truck manufacturers are already investing heavily to bring a range of electric, hydrogen and other new technology models to market. Those companies who can afford the initial investment in greener fleets are promised significant savings on ongoing operational costs.
Commented Lyall Cresswell, chief exectuive of Transport Exchange Group: "A price drop in February is nothing new. We've seen exactly the same pattern in previous years, and we'd expect prices to rise gradually as we head into spring.
"However, this year is somewhat uncertain as the UK narrowly avoided a recession and inflation remains high. Businesses are still scaling back, encouraging haulage and courier companies to keep their prices down, even as they contend with high costs.
"But the future for freight is still looking promising. There are huge opportunities for development in new technology and sustainability – opportunities that the industry must grab."
Added Kirsten Tisdale, director of logistics consultants Aricia and Fellow of the Chartered Institute of Logistics & Transport: "Both elements of the TEG Road Transport Price Index continue to interest. The haulage element of the index still shows year-on-year deflation, which has been ongoing since June last year, despite significant rises in key operational costs. But the courier element carries on with inflation, which is now back into double figures.
"Bearing that in mind, it's no surprise to hear that the Bank of England might raise interest rates again later this month, as the overall TEG index comes back out of the Bank of England's comfort zone."