Sustainable urban freight movements were a key focus of the second Transport for Greater Manchester (TfGM) logistics forum, held last week.
More than 60 public and private sector industry stakeholders came together to discuss ways to improve freight flow and mitigate the impact of deliveries on the urban environment across Greater Manchester.
Opening the event, TfGM chief executive Jon Lamonte announced the publication of the region's 2040 Transport Strategy.
"This is a long-term framework to improve transport across the city region, creating a cleaner, greener, more prosperous Greater Manchester," he said.
Manchester had also finalised its Low-Emission Strategy and Air Quality Action Plan to ensure the city region met EU environmental targets.
"These will ensure the continued economic growth of one of the UK's foremost city regions does not come hand-in-hand with a rise in air pollution and carbon emissions," said Lamonte.
Measures include: exploring the feasibility of a clean air zone; increasing the number of electric vehicle charging points; supporting sustainability in the freight and logistics sector.
The TfGM 2040 Transport Strategy follows the publication of the first Greater Manchester Freight and Logistics strategy adopted in July 2016.
Delegates were told about major highways infrastructure proposed for the Greater Manchester region, and given an insight into the skills requirements and opportunities for logistics.
Better use of urban consolidation centres was discussed by Graham Stewart from Arup Consultancy, while Sam Clarke (pictured below), director at final-mile operator Gnewt Cargo, detailed his business model of using 100% electric vehicles in London.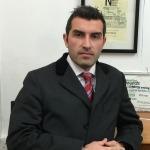 "We need to educate our customers; the consumer is driving our service delivery, changing our business and bringing greater complexities to the delivery. We need to educate, and legislation is assisting with this," he said.
Clarke added that planning of business space had opened up the ability to occupy disused areas like garage parking and underground train station areas.
Allowing re-use of disused spaces located within a short distance to the user has been critical in making electric deliveries possible, he said.
"Pollution is close to my heart, Manchester must take on electric final-mile solutions," Clarke said.
TfGM senior manager told Freightinthecity.com it was "fantastic to see the expertise and enthusiasm" from both the public and private sector during the panel session, and the workshop sessions which took place following the presentations.
"This gives us great confidence that we will be able to collaborate effectively with partners as we look to deliver our Freight and Logistics Strategy," he added.
The next TfGM logistics forum is planned for the autumn. Register your interest at freight@tfgm.com