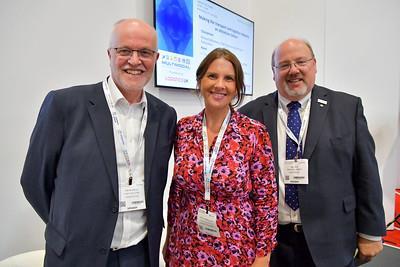 The DfT has got behind a new recruitment campaign, Generation Logistics, launched today at the Multimodal show by the Chartered Institute of Logistics and Transport (CILT) and Logistics UK.
The DfT has put £345,000 into the campaign which will be based on a new web portal carrying careers advice as well as job vacancies and will focus on demographic areas deemed to be "inclined towards taking up a role in logistics".
Industry supporters have contributed an additional £350,000 and the campaign is backed by 24 private sector sponsors and 15 trade bodies including the RHA.
Freight strategy minister Trudy Harrison MP said: "The sector has really stood up to the challenge of funding an industry-wide campaign like this, and we are so grateful for the support we have received alongside vital government funding.
"The most important part of Generation Logistics is communication. It is already an incredibly content-rich sector and the aim is to attract 600,000 visits to the hub to provide opportunities for people to learn about freight and logistics.
"This is industry-led and we are assisting it to promote the opportunities available and diversify this sector to improve on the current statistic that 84% are men. We want to see a more representative workforce with better gender balance."
Phil Roe, who was with DHL for 18 years before becoming president of Logistics UK in April, said the campaign aims to attract, identify and develop a new and diverse generation of talent to fill vacancies industry-wide and so future-proof the sector.
"Before the pandemic, logistics was a largely hidden industry, yet acted as a vital cog in the wheel of our interconnected economy," he said. "It is vital that our sector now takes advantage of its new-found awareness to highlight the complexity and technological developments involved in moving goods to their destinations, to encourage new recruits into our industry and protect our supply chain.
"We often say logistics is the country's 'hidden secret' - Generation Logistics is the campaign which will challenge that perception and bring the sector to the forefront of people's minds, as a forward thinking, fast paced modern industry with much to offer today's employees, as well as the workforce of tomorrow."
Harrison met supporters of the campaign at its launch and said she was impressed by their passion for the initiative.
"Andrew Malcolm [Malcolm Group CEO] is so enthusiastic about Generation Logistics," she said. "To hear that from someone with so much knowledge and experience is so personally vested in the sector filled my heart with joy.
"Everyone I have spoken to this morning was enthusiastic about amplifying and promoting the opportunities in the sector and that is the crux of what we are trying to achieve."
In a statement, transport secretary Grant Shapps MP added: "I am proud to confirm government support for the Generation Logistics campaign. The pandemic has once again demonstrated the strategic importance of supply-chains and their associated workers.
"However, we have a new challenge facing us as we look to the future of freight. We need to attract a diverse and skilled workforce to play a key part in a new, exciting era transforming an industry at the forefront of innovation and technology. There are thousands of logistics roles available to people from all backgrounds, experience and skills.
"This campaign will showcase those opportunities in artificial intelligence, advanced robotics, autonomous vehicles and the decarbonisation of the supply chain. This industry campaign is integral to not only supporting growth of this vital sector but also ensuring we have the workforce needed for now and the future."
Generation Logistics is aimed at 16 to 24 year olds wanting to join the industry at any level from entry to degree.
"We are not pushing in any one area here," said Roe. "We are showcasing all of the different careers and roles that are available in the logistics sector. We want to give people an informed choice about the opportunities that exist, with real people talking about real jobs with a bit of passion.
"If they want to go into driving or IT that is brilliant."
One barrier to recruiting and training new talent for the industry has been a lack of suitable apprenticeships; speaking at Multimodal earlier Logistics UK chief executive David Wells pointed out that the logistics industry had now paid £700m into the Apprenticeship Levy and drawn out just £150m.
"There is a lot of work going on separately from this around how we can look to improve the use of the Apprenticeship Levy and those discussions are only strengthened by Generation Logistics as a way of bringing more people into the industry," said Roe.
The Department for Education (DfE) has also allocated £34m to fund skills bootcamps for HGV driving, though there has been criticism that this money is in danger of being wasted due to DVSA bottlenecks in HGV driving tests.
"We work closely with the DfE which is funding 11,000 bootcamp places and this gives us the opportunity and motivation to work across government to support the sector," added Harrison. "Over 10,500 HGV tests were carried out in March which is more than in any month in the last three years. We have also invested £52m in driver welfare facilities so while there will be more to do – there always is – we are making great progress."