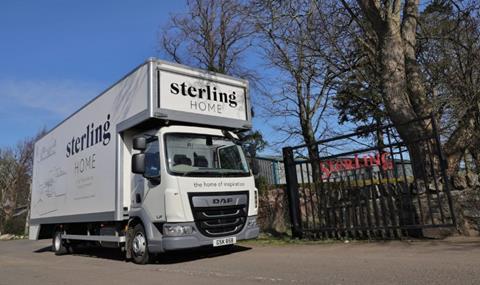 Sterling Furniture has signed a six-year, full-service contract hire agreement with Fraikin for 12 new DAF rigid trucks.
The latest deal sees Sterling Furniture order nine 7.5-tonne DAF LFs and three 12-tonne LFs, all featuring Luton bodies.
Each truck represents a like-for-like replacement for older assets previously supplied by Fraikin.
The new additions join a 28-strong commercial vehicle fleet delivering furniture through Scotland and North East England.
Craig Wilson, head of distribution at Sterling Furniture, said: "Contract hiring our trucks brings huge benefits to the business.
Read more
"We have consistent control of our costs, while Fraikin delivers a proactive approach to maintenance and servicing that works around our operational timetable, enabling us to maximise fleet uptime and efficiency."
Built by Tekbo, the bodywork on all 12 trucks is specifically designed for transporting furniture, with strong webbing, straps and cushioning to protect the load. The trucks have also been specified with a folding tailgate for easy walk-on, walk-off access when loading and unloading.
Each truck is equipped with Samsara's latest Connected Operations Platform. This full telematics suite will collect a range of data, including distance travelled, average speed, fuel efficiency, diagnostic fault codes and distracted driving indicators from each vehicle, which can be used to help improve fleet efficiency, reduce vehicle downtime and prevent accidents.
Wilson added: "With each new deal, Fraikin is able to keep our fleet up-to-date, installing the latest technology to help further improve our operation and, in turn, deliver a continued high level of service to our customers."
Sterling Furniture makes deliveries from its retail outlets in Aberdeen, Glasgow, Falkirk, Dunfermline, Dundee, Edinburgh, Inverness and Uddingston, and its flagship Tillicoultry store.
The trucks are expected to be on the road up to six days a week, with the 7.5-tonners expected to clock-up between 25,000 and 30,000 miles a year and the 12-tonners closer to 50,000 miles each year.