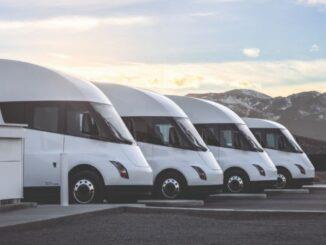 Tesla's new factories in Germany and Austin, Texas are "losing billions of dollars" because of continued parts shortages and disruptions in China, according to its boss Elon Musk.
The chief executive had already announced his company would not be introducing any new vehicle models this year due to battery shortages and in a recent interview Musk explained that its factories all over the world were still struggling amid significant economic issues.
No specific reference was made to the long-anticipated EV heavy truck the Tesla Semi, although in a quarterly update last year the company said the programme's launch had already been shifted to 2022.
Read more
Musk said: "Both Berlin and Austin factories are gigantic money furnaces right now.
"It's really like a giant roaring sound, which is the sound of money on fire."
The chief executive added that the plans were "losing billions of dollars right now.
"There's a ton of expense and hardly any output."
Tesla has said the Semi would be powered by four electric motors from the Tesla Model 3, and claimed it would have a zero to 60 acceleration time of five seconds.