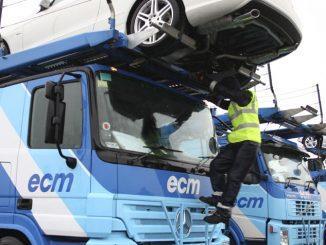 Vehicle transportation specialist ECM (Vehicle Delivery Service) saw losses deepen in 2021 as the dual impact of the Covid-19 pandemic and the semiconductor shortage took its toll on the business.
In its latest annual results to 31 December 2021, the company reported pre-tax losses of -£553,895 (2020: -£391,578), despite turnover rising to £78.1m (2020: £74m) in the year.
These are the first annual results published by the company since its purchase by Constellation Automotive group in August this year for an undisclosed sum. The group also owns ECM rival BCA including BCA Automotive Logistics and BCA Automotive Services, as well as WeBuyAnyCar.com.
In its annual review of the business, ECM said that Covid-19 had dealt a "major impact" in 2021 as well as the semiconductor shortage in the automotive industry which had resulted in new car registrations remaining at 2020 levels, some 29% lower than 2019. This represents the majority of vehicles moved by the business.
On the upside, the review noted that at year end the company had cash at the bank of £6.7m, adding that it has held strong cash balances during the year, resulting in "minimal" cashflow risk to the business.
Looking to the future the company, which employs around 730 staff, said its directors are planning to secure new and existing contracts within the company's existing market as well as continue to invest in its fleet, employees and IT systems.
Read more
Constellation Group's acquisition of Carlisle-based ECM sees the company bring its fleet of over 500 car carriers to the group.
ECM also boasts a host of blue chip clients including Avis Budget Group, BMW, Daimler-Mercedes-Benz, Smart, Ford, Gefco, General Motors, Honda, Hyundai, Jaguar-Land-Rover, Mazda and Toyota & Lexus.
Other acquisitions Constellation Group include Paragon Automotive, car preparation firm Ambrosetti, and Stobart Automotive.
Last month Constellation Group confirmed the acquisition of ECM. In a statement it said: "The purchase of Cold Fell Group (including ECM (Vehicle Delivery Service)) by Constellation Automotive Group on 19 July 2022 allows Constellation to continue its journey to create an efficient and sustainable logistics operation, support the requirements of the group and to support its external customers and partners.
"Creating a more efficient logistics operating model gives all stakeholders the opportunity to minimise the environmental impact of physical transportation of vehicles."
Both Constellation and ECM have yet to respond to a request for comment.