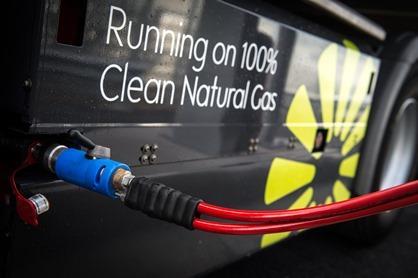 The key findings have been revealed from a four-year £20m government programme aimed at cutting emissions and improving air quality.
The Low Emission Freight and Logistics Trials (LEFT) included a major UK study of long-haul and gaseous fuel technologies, assessing how dedicated Euro-6 gas trucks perform in terms of engine performance, reliability and fuel economy.
The research, which compared gas performance with diesel, looked at four main duty cycles - city centre, urban, regional and long haul – and used HGVs from Iveco, Scania and Volvo.
LNG findings
Assuming a 60% payload on each truck, the study found a substantial energy efficiency penalty for SI (spark ignition) on liquefied natural gas (LNG) engines in lower speed cycles. However, there was no efficiency penalty in long haul.
The study found around a 10% energy saving with dual fuel (DF) LNG technology and that long haul is generally the best option.
LNG emitted a lower level of greenhouse gas (GHG) emissions but only in higher speed cycles. If liquefied biomethane is the assumed fuel, there would be savings on all cycles in the range of 70% plus.
In terms of pollutants, there was "little to choose" between gas and Euro-6 diesel, but LNG had lower NOx in city centre trials. There was a higher NOx across all other test cycles but still within normal Euro-6 values.
Summarising, the report said long haul and regional operations were most suited to dedicated gas technology, however more infrastructure was needed.
Despite the additional costs in gas, payback was expected in two years based on a travelling distance of 160,000km.
Another key finding was that methane slip – a past problem – was no longer an issue in the gas truck trials.
"Gas truck technology is viable and immediately available," the report said. "It can provide significant CO2 savings, especially in the HGV sector where electric/hybrid solutions aren't yet available. The strongest case is in higher mileage routes."
The results of the trials have already led Asda to order 60 LNG trucks while Kuehne + Nagel has also deployed more HGVs using LNG technology.
Meanwhile, Howard Tenens has committed to a broader CNG truck roll out and Air Liquide is to quadruple its gas fuelling stations by Q1 2021.
Overall biomethane usage across UK gas fuelling stations reached 80% in 2019.
CNG findings
The LEFT compressed natural gas (CNG) research aimed to show how a large fleet of CNG lorries can operate reliably across a well-established business like John Lewis.
All trucks ran on 100% RTFO-approved sustainable and renewable biomethane at a total distance of seven million kilometres.
In a trail of biomethane versus standard blend diesel, a reduction in wheel-to-wheel GHG of 81% was realised.
Again, there was an energy efficiency penalty for SI gas engines in lower speed cycles and a much smaller efficiency penalty in long haul cycle.
In terms of emissions testing, CNG had lower GHG than pump average diesel but only in long haul cycles.
If renewable biomethane is assumed, there would be savings of 78-85%.
Again, there were very low levels of methane slip.
There was little difference between gas and Euro-6 in terms of pollutants.
CNG HGVs have somewhat higher NOx, PM and CO2 emissions than diesel but all within normal ranges.
Driver feedback on CNG was very positive with the majority of drivers preferring the LEFT vehicles to the diesel baseline vehicles.
The CNG trucks were noticeably quieter and refuelling is cleaner than with diesel.
It was also important to many drivers that they were driving a more environmentally friendly vehicle.
Reliability between CNG and diesel was reported to be about the same.
Lack of public access refuelling stations limited operations where a small portion of routes operated by John Lewis couldn't be covered with the LEFT trucks.
However, following the trial John Lewis ordered another 143 CNG trucks for delivery in Q4 2020.
The company also committed to replacing all diesel HGVs with biomethane powered trucks by 2028. This will give it 600 plus HGVs powered by biomethane.
The trial showed 80% plus GHG savings from heavy haulage. As a result, using biomethane could result in a saving for the UK heavy haulage industry of more than two million tonnes of GHG emissions per year by 2025.