An all-electric cargo trike is going on sale in the UK as a zero-emission, low-noise alternative for handling last-mile urban deliveries.
The Tripl, manufactured by Danish firm Trefor Drive, is designed to be easily manoeuvrable in narrow streets, with a 7.5m turning radius and a reverse function.
It has a top speed up to 28mph and can operate up to 60 miles per day on one charge, which takes between four and eight hours depending on the recharging infrastructure.
The Tripl can even be charged by plugging it into the wall, like you would a mobile phone, and is not dependant on specialist charging units.
It is powered by an 8KW/h Samsung lithium-ion battery and also features a 12V power outlet.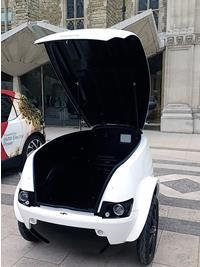 The Tripl's 750-litre cargo area measures 1.25m long by 0.9m wide and 0.7m deep and can carry loads weighing up to 200kg.
It can be kitted out to suit a variety of operations, including heated and refrigerated interiors, tool racking systems and urban waste collection.
The vehicle is mounted and dismounted from a step-up platform at the rear with a height-adjustable seat, and is driven and parked in the same manner as a traditional scooter.
Trefor said the Tripl offers a total cost of ownership of 0.11 Euros/km (less than 10p).
It can also save operators in London money by being 100% exempt from the Congestion Charge and fully compliant with the pending Ultra Low Emission Zone.
Drawing the crowds at last month's LoCity event in London, the firm told Freightinthecity that it had set its sights on the UK after the Tripl's success elsewhere in Europe.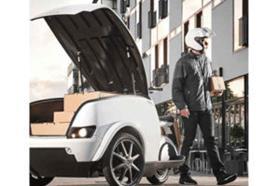 In Amsterdam, postal company Sandd has taken delivery of two units for its postmen to trial; the City of Fredericia in Denmark is using units for municipal servicing operations such as refuse collection; Danish Housing Association Bovia have bought 3 TRIPLs to use when maintaining grounds and homes; and in Copenhagen it is used as a mobile coffee bar in the town hall square.
Steen Meldgaard Laursen, sales director at Trefor Drive, told Freightinthecity that in the UK it would be looking to sell to operators working within last-mile deliveries, postal services, and the parcels sector.
Trefor is currently in talks with key operators looking to to trial the Tripl, while also establishing partners for servicing, spare parts and leasing. Orders placed now for the Tripl will see units delivered this summer, the manufacturer confirmed.