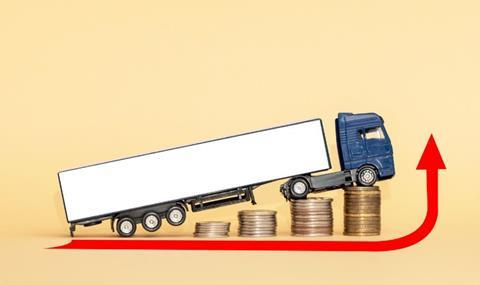 Transport firms should be preparing to safeguard their operations from economic decline as the country teeters on the edge of recession, according to Bibby Financial Services (BFS).
It said rapidly rising inflation, persistent supply chain issues and labour shortages would worry many businesses - and with a potential recession looming, hauliers should act now to maintain their resilience.
Latest research from BFS showed that almost half of all transport SMEs (46%) described themselves as 'just about breaking even' and 12% said they were operating at a loss.
A quarter said they had experienced an increase in bad debt since last year.
Derek Ryan, BFS UK MD, said: "While it's true that all UK businesses face a plethora of challenges today, the transport sector in particular has been bearing the brunt of rising fuel prices, supply chain costs, staff shortages and complex Brexit implications.
"Fuel prices for hauliers are devastating businesses up and down the country, with profit margins slashed and growth a pipedream.
"The cut in fuel duty performs a mere sticking-plaster solution, and without further government support, many haulage companies will be forced to sacrifice scale over profit."
However, Ryan also said many firms were also confident about the future, after the pandemic "supercharged" online shopping.
"The sector is certainly resilient and has a distinct spirit of hope and optimism, but these SMEs are not unrealistic; they know that challenging times lay ahead, and many are adapting and preparing so that they are best placed to weather the coming storm," he said.
"With a potential recession looming, it's imperative that transport businesses prepare to insulate themselves from the effects of a downturn.
"This means reviewing your operations; taking a careful look at supply chains, and credit control processes, while also reviewing the ways you might be able to unlock value from existing assets.
Ryan said: "As costs continue to rise, transport businesses will need clear access to working capital, and understanding alternative routes to funding and finance will help these businesses adapt and thrive."