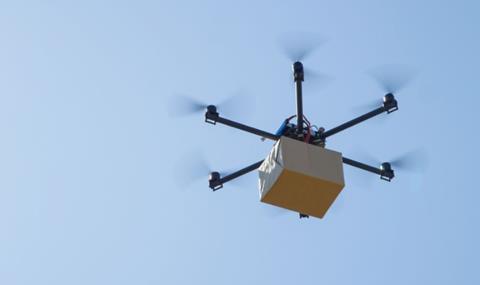 BT Group is to take a £5m stake in drone start-up Altitude Angel as part of wider plans to create a drone superhighway linking key UK logistics hubs.
BT will provide Altitude Angel with the financing in return for a stake in the business.
The investment will accelerate the roll-out of Altitude Angel's Arrow technology, which aims to detect and identify drones using cameras and sensors mounted on BT phone masts, allowing the craft to operate over large distances while avoiding collisions between themselves or with crewed planes.
Dubbed Project Skyway, the drone corridor, once launched, will be the world's largest, spanning 165 miles between logistics interchanges in Reading, Oxford, Milton Keynes, Cambridge, Coventry, and Rugby, with planned extensions to Southampton and Ipswich, providing onward transport for items arriving at nearby container ports.
Read more
Altitude Angel's UTM software will be used in the development of Project Skyway, with BT supplying connectivity for the highway.
Richard Parker, chief executive and founder of Altitude Angel, said: "Combining our Arrow technology, which allows crewed and uncrewed aircraft to share the same skies, safely and securely, with BT Group's significant communications infrastructure, we can quickly bring Arrow to the masses."
"This will provide the UK with the first nationwide drone superhighways, unlocking the potential of this new and innovative technology and revolutionising business operations in countless industries," added Parker.
Tom Guy, MD of BT Group, said: "This partnership is a natural extension to BT Group's work building the leading network in the UK, supporting the UTM industry that sits adjacent to our core business."