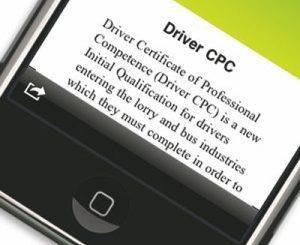 Pallet networks want to see the Driver CPC suspended for two years with a promise it will be reformed or abolished, in order to attract back a "mass exodus" of professional drivers.
The association of pallet networks (APN) also said allowing standard driving licence holders to drive 7.5-tonne vehicles once again would help haulage operators recruit young candidates.
APN chairman Paul Sanders told motortransport.co.uk he "absolutely" agreed with Pallet-Track's CE Caroline Green that a moratorium on the Driver CPC was a quick way of getting lapsed drivers back into the industry.
He said: "When we speak to experienced drivers that have gone through some of the training of the CPC, they say the quality has been inconsistent.
"They really don't think it's been adding value to the cost and the time to have to do it.
"That has driven drivers to move away from the industry. There was a mass exodus when it first came into play.
"A temporary holiday of the CPC would definitely be an advantage. It would have to be a couple of years and an agreement that it's reformed or abolished."
Last week, Green said it was already too late to save peak Christmas trading, but that suspending the Driver CPC could solve driver shortage problems in time for Easter 2022.
Read more
Sanders said putting the 7.5-tonne vehicle driving entitlement back on to licences was also a good way of getting young people back into the industry: "For decades we saw it was an excellent training ground for young drivers," he said.
"7.5-tonnes is not a van, it's a truck.
"They learn the job and then operators invested in them and put them through further licences.
"It was proven to be successful."
The government's response to the driver crisis - introducing a temporary visa scheme - has been widely criticised by the industry; Sanders described it as "too little, too late" and Harinder Singh, MD at BJS Distribution Storage and Courier, called it a token gesture: "No one is going to come here for three months," Singh said.
"Immigration, movement of people – it only happens if people can improve their financial situation.
"You are not going to leave your family unless it will make you all better off.
"All we're doing is costing the haulage family a bigger problem – you'll end up having to pay a lot more money for the drivers temporarily.
"The long-term solution has to be immigration from countries struggling financially - not Europe, unless we are giving them long-term visas."