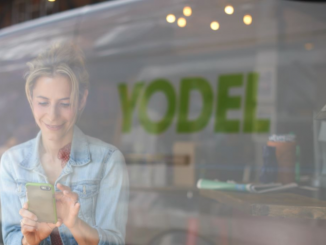 Parcel delivery company Yodel is continuing on the road to recovery after reporting triple-digit growth in demand for fresh food and flowers and a double digit volumes in all other categories in the run up to Christmas 2021, compared to the previous year.
Reporting its half-yearly (H1 FY 2022) results this week for the period 1 July to 31 December 2021, the parcel delivery company revealed a strong Christmas trading performance in the six weeks to 24 December, with volumes up 34.9%, compared to the same period in 2020.
Yodel saw triple-digit growth in its fresh food and flowers category and double-digit growth across all other categories, including alcohol, retail, garden and pet foods in the Christmas period.
However it added that whilst it saw an overall increase in volumes in H1 2022 of 22%, compared to the same time period in 2020, volumes were down 1.6% compared to H1 2021, when the UK was subject to Covid-19 restrictions.
The company also noted that the H1 results are against a background of a "challenging" period, which saw sharp cost increases in fuel, labour and utilities.
Operational highlights during the period include the winning of a number of new customers, including I Saw It First, Homebase and Virgin Wines, and a major £13.2m investment in 250 new trailers and 100 tractor units.
Read more
Yodel said it also continued to invest in technology in the period, spending £1m integrating the Merlin2 parcel sortation system at its Shaw sorting centre, continuing the development of Yodel's hand-held terminal transformation programme, rolling out new hands-free devices along with a digital app for its national sortation centres and depots, and upgrading its driver app to include image capture for all deliveries.
The delivery company also reported that it has seen its customer-to-customer service grow by 50% year on year and has continued to invest in its customer service operation, which it said has led to "significant reductions" in contact per parcel.
Yodel also continued its major recruitment programme in the period, creating a total of 4,311 new roles across its UK network in H1 2022, as well as winning multiple industry awards.
Mike Hancox, Yodel chief executive, said: "We have recorded a strong performance in H1 FY22 and, thanks to our people's resilience and the business' flexibility, we have achieved significant growth since the start of the pandemic in 2020.
"The first half of FY22 has demonstrated that despite ongoing uncertainty caused by Covid-19, demand for e-commerce and doorstep delivery services remains as strong as ever and that Yodel is perfectly positioned, and prepared, to cater to changing customer needs.
"In the coming year, we expect to see the greater integration of technology into delivery service business models to improve customer experience across the industry, increasing the efficiency of supply chains to handle larger volumes, as demand for online shopping continues to grow."
Yodel's latest published annual results to 30 June 2020, filed on 17 December 2020, revealed that it had halved its pre-tax losses, reporting a loss of £ £32.3m in the period, compared to a loss of £67m in the previous year, on revenues of £430.3m (2019: £420.6m). At the time the company predicted it would be back in profit by mid-2021. Its next accounts, made up to 30 June 2021, are due by 31 March 2022.