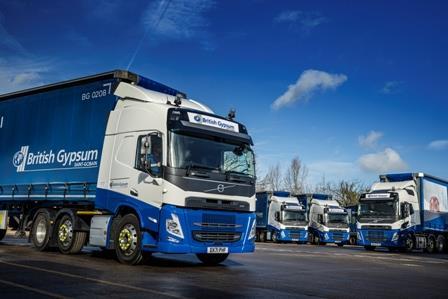 XPO Logistics has started to take delivery of 76 Volvo FM 6x2 tractor units valued at around £7m to be used on the firm's distribution contract with building materials supplier British Gypsum, part of Saint-Gobain.
Twenty three of the 6x2 tractor units are FM LNG models which XPO will run on bio-LNG supplied by Gasrec while the other 53 FMs will be fuelled with hydrotreated vegetable oil (HVO) from Green Biofuels, reducing tailpipe carbon emissions by at least 80% and NOx emissions by 30%.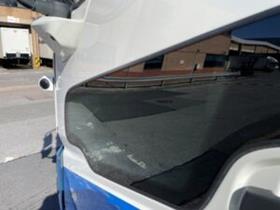 The FM was preferred to the FH because, with its low windscreen and factory-fitted passenger door window, it qualifies for three stars under TfL's Direct Vision Standard (DVS), meaning the vehicles will be able to enter London without paying a charge from 2024. The tractors also have five cameras giving a 360 degree view around the truck to meet the FORS silver standard.
Dan Myers, MD for UK and Ireland at XPO Logistics, said: "British Gypsum and XPO have built a true partnership based on shared values, with a clear focus on safety and sustainability. This is underpinned by our exploration of further innovations that can significantly improve environmental performance. Our investment in fleet powered by bioLNG and HVO technologies demonstrates the importance we place on helping British Gypsum move towards net carbon zero."
The new trucks will be based in the Midlands and deliver building supplies – including plaster, plasterboard and high-performance drylining systems - to British Gypsum customers across the UK and transport stock and materials between the manufacturer's five UK plants. The LNG trucks will mainly be used to deliver into London and the South East as their 155-litre tanks give a 400 mile range meaning they can easily return to Dirft to refuel every day.
The HVO is Green Biofuels' GD+ product and currently bunkered at two XPO sites. XPO plans to have HVO on half a dozen sites soon and on 30 by summer 2022.
Brian Fisher, head of distribution at British Gypsum, said: "Our new fleet of vehicles underlines our commitment to ensuring that our products are delivered to customers in an efficient, secure, safe and sustainable way, whilst further improving welfare standards for our drivers. The latest investment signifies yet more progress as we continue on our journey to being net carbon zero by 2050 and highlights our continued commitment to FORS and CLOCS status."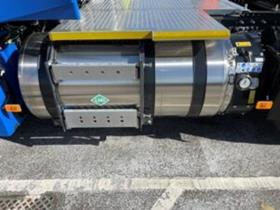 Expected to clock up 150,000 km each year, the FM LNGs will refuel at Gasrec's station near Daventry rail freight terminal (Dirft). Volvo's LNG trucks use small amounts of diesel (around 10% of total fuel use) to ignite the gas-air mixture rather than spark ignition, meaning the G13C engine delivers the same 460hp and 2,300Nm as its diesel equivalent. XPO will be using HVO rather than diesel to further reduce emissions. Because the direct injection system uses HVO or diesel the exhaust after-treatment also uses around 5% AdBlue to meet Euro-6.
All the trucks have the spacious Globetrotter cab with the latest dashboard offering more storage space, new colours and a dynamic digital display. To improve their driver appeal still further, XPO specified Volvo's Drive+ package with an adjustable steering wheel with neck-tilt, air conditioning with sun and air quality sensors, refrigerator and microwave.
Safety has also been prioritised, with each truck fitted with an £8,000 package of options including an extended catwalk, blind-spot detection sensors, audible alarms for reversing and turning left, rollaway prevention technology and the 'CoupleSafe' system that alerts the driver if the trailer is not connected correctly. Kevlar fifth wheels have also been specified to operate without grease to clean up the rear of the units.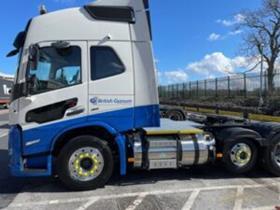 Myers added: "Both companies are committed to safety and appreciate the importance of sustainability and driver welfare, which is especially important with the driver availability issue. This is a collaborative approach – our customer British Gypsum is at the forefront of these issues and we fully support them.
"Fuel prices are rocketing, but our partnerships with alternative fuels providers have provided an element of insulation from high inflation. They also represent big steps in environmental impact mitigation. We are working through industry bodies to lobby government to reduce the duty on these green fuels."
XPO is also trialling three Renault electric trucks on its home delivery operation.
"Longer term is the answer electrification or hydrogen?" asked Myers. "We need a direction of travel from government so we can adapt. Once the course is clear we can adapt quickly, as prices of vehicles will come down."