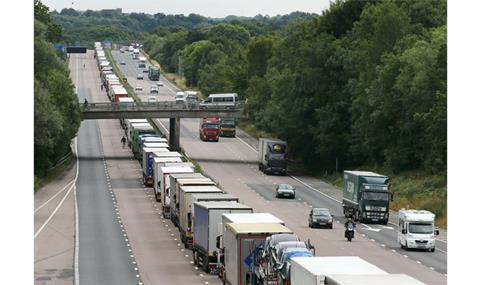 Overnight work on the M20 in Kent to install a temporary steel barrier that keeps traffic flowing in the event of disruption after Brexit starts this weekend.
Highways England said it had learned lessons from Operation Stack and that its new package of measures, collectively called Operation Brock, were "a significant improvement" to previous attempts to queue lorries heading for Europe.
Completion of the steel barrier, which will create a contraflow system, is scheduled for mid-March and overnight closures will be in place between junctions 9 (Ashford) and 7 (Maidstone).
From 12 February until mid-March there will be narrow lanes and a 50mph speed limit.
Operation Brock also incorporates Manston Airfield and the M26.
Read more
In October 2018, the FTA criticised Highways England and the DfT for failing to give hauliers advanced warning of overnight closures on the M26 while gates were installed that can turn the central reservation into a lorry parking area.
Simplified customs checks
Meanwhile, the RHA said government plans for simplified customs checks were not enough to prepare businesses for a no-deal Brexit.
The transitional simplified procedures (TSP) are intended to make importing easier should the UK leave the EU without a deal.
HMRC said once businesses are registered for TSP they will be able to transport goods from the EU into the UK without making a full customers declaration at the border and they can postpone paying import duties.
But RHA chief executive Richard Burnett said the sheer scale of the issue meant there was not enough time for companies to prepare: "This is just one part of the Brexit jigsaw," he said.
"The French have still not defined their export process. How on earth can businesses make the necessary arrangements and plan for the future when then are still in the dark as to how the processes on both sides of the Channel will work?
"Despite our constant and incessant calls for clarity, none has been forthcoming and through no fault of its own the haulage and logistics industry is still not ready for a no-deal, no transition Brexit in less than seven weeks' time."
Burnett's comments came amid warnings that the government has so far failed to hire the 1,000 border staff it said were needed for a no-deal Brexit.
Photo: PA Images