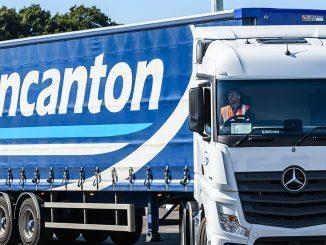 Wincanton's group revenue is forecast to rise by 12% in Q4, helped by a slew of new retail and public sector contracts and the acquisition of e-commerce specialist Cygnia last year.
In a trading update, Wincanton reported "excellent" growth in all its markets, predicting a 12% increase in revenue in the fourth quarter compared to the same period last year.
Group highlights include a 56% leap in full-year revenue for its fulfilment business, aided by the purchase of Cygnia, which accounted for a 15% revenue boost and has delivered "a healthy pipeline of prospects".
The firm's public and industrial divisions is expecting an 18% rise in revenue for the full year to 31 March 2022, the group said.
Key wins in the period include a contract to run a new DEFRA site within the Sevington Inland Border Facility and a deal to process and store PPE on behalf of the government. This involves sourcing 330,000sq ft of storage space via the company's shared warehousing platform, OneVAST warehouse.
Wincanton reported that its two retail sectors, grocery and consumer and general merchandise, are also performing well with revenue expected to grow year-on-year by a combined 17%, aided by the Primark contract which Wincanton won in November last year.
The deal, which saw Wincanton take over a 160-strong fleet and 96 drivers, involves the management of all the retailer's UK warehouse-to-store transport logistics.
Read more
The company also reported that the driver and labour shortages have stabilised following the peak period and that it has taken on another 260 employed drivers, bringing the total of directly employed drivers to 5,360.
Turning to the impact of the Ukraine war, the group said it is confident its supply chains and procurement channels are robust, adding that Wincanton will continue to closely monitor key suppliers.
Rising fuel prices are not expected to create significant problems for the group going forward, the group added, thanks to the structure of its contracts and a strategy to "work closely" with customers to manage these cost pressures.
Wincanton added that it has secured funding to support its growth strategy, having signed a renewal to its credit facilities until March 2026 with the commitment extended to £175m.
James Wroath, Wincanton's chief executive officer, said: "Wincanton has delivered a strong final quarter performance, maintaining the positive momentum we have seen throughout the year and with all four parts of the business contributing positively to our growth.
"We continue to deliver against our strategy, with significant growth in our focus markets of e-fulfilment, public and infrastructure, and we are well placed to capitalise on the opportunities we have ahead of us in the coming year."
The Group will announce its full-year results for the year ended 31 March 2022 on 20 May 2022.