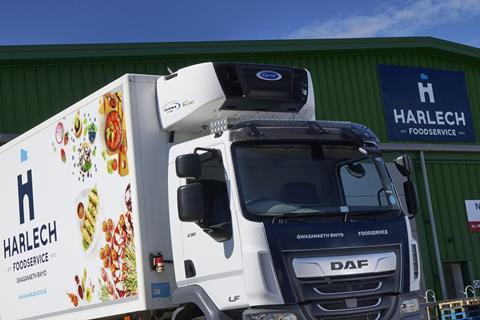 A longstanding impressive performance rate from Carrier Transicold's Supras has resulted in wholesaler Harlech Foodservice ordering four new rigids mounted with the multi-temperature units.
The Supra 850 MT Silent units are mounted to 12-tonne DAFs and each feature multi-compartments from Solomon Commercials.
Replacing older assets, the Welsh company said the new vehicles will join its 32-strong commercial vehicle fleet.
Jonathan Foskett, Harlech joint chairman, said: "We specified our first Supra around 12 years ago and that's roughly the length of time we expect our trucks to stay in operation.
"Over those 12 years we've only seen a negligible drop in performance from those first units, which is mightily impressive.
"They guarantee us consistent, reliable performance with impeccable temperature recovery and rapid pull-down speeds, and since we introduced the low-noise version three years ago we also get the added bonus of a much quieter unit; the Supra really is the best option for the multi-drop delivery routes we operate."
Based out of the firm's Criccieth, North Wales HQ, the trucks will be on the road six days a week and are expected to cover between 40,000 and 50,000 kilometres a year.