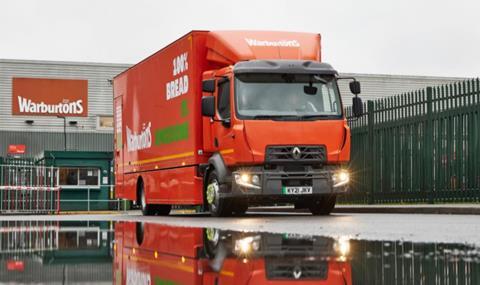 Bakery brand Warburtons has found the next best thing since sliced bread and rolled out its first 16-tonne, 100% electric Renault Trucks D Z.E.
The vehicle, which can cover up to 150km on a single charge and carries around six tonnes of bread and bakery products to multiple locations across London, joins the company's secondary bread fleet operating out of its Enfield bakery.
The 4x2 rigid featuring a box body with rear side doors and tail lift is powered by 200kWh, 600 V lithium-ion batteries.
The D Z.E is Renault Trucks' first production electric truck to go on the road in the UK.
Read more
Steven Gray, Warburtons national transport manager, said: "As our first 16 tonne electric truck goes on the road, we mark another important milestone in our sustainable fleet management.
"By using the Renault Trucks D Z.E. we offer our customers the same quality of service but with zero tailpipe emissions and quieter operation in urban environments."
Aftersales support will be provided by local dealer Norfolk Truck & Van Enfield throughout the 10-year contract.