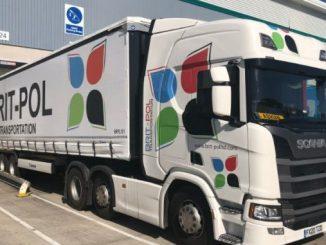 The scale of the problems faced by haulage contractor Brit-Pol in the run-up to its collapse in January is revealed in a report to creditors, which outlined how Russia's invasion, a cyber attack and threats by the traffic commissioners all took their toll.
The Lincolnshire haulage contractor was forced to appoint administrators at BDO after a torrid 12 months beginning in December 2021.
The company, which was incorporated in 2011, had been growing for several years by this point and it entered into a factoring agreement to enable it to receive 2.8m Euros per month.
However, the administrators said this facility was terminated due to a breach of agreement at a time when the international haulier was turning over £16.3m and making pre-tax profits of £1.2m.
This had a huge impact on cash flow and so Brit-Pol worked with a new accountant in order to restructure its business and hopes were raised that its liabilities could be settled by May 2022, keeping all 250 staff in employment.
But the report said: "However, throughout 2022 the company faced further challenges as there were low sales in Europe due to the start of the Russia and Ukraine war.
"The company's main customer also reduced the volume of their shipments to the UK due to a strike on the main ports in Germany.
"The company began to suffer issues with the traffic commissioners during this period with the traffic commissioner threatening to revoke the company's operator licence due to their belief that the company no longer satisfied the requirements to be of financial standing," BDO added.
Read more
Further problems arose when the company was the target of a cyber attack on its transport management system, which prompted the exodus of three big blue chip customers and left the haulier unable to work for 12 days.
"During this period the company also received pressure from its drivers to increase wages due to the costs of living crisis and there were more strikes at ports in Felixstowe and Benelux, causing further issues for the company," the report added.
By September 2022, turnover had plummeted to £13.2m and pre-tax profit decreased to £852,000, prompting Brit-Pol to sell vehicles and reduce staff numbers in a bid to improve cashflow and productivity of vehicle utilisation.
It was thought the haulier could still survive, but then the final nail in the coffin came on 26 December 2022 when the contract with its shipping company was terminated with immediate effect due to a lack of sales invoices: "This meant trailers were blocked at the terminals and could not be shipped between the EU and the UK and vice versa and the company could not create further sales or claim factoring from Poland."
By this point Brit-Pol had become insolvent and so a notice of intention to appoint an administrator was filed on 29 December before BDO's insolvency practitioners were sent in the following month.
The report added that unsecured creditors' claims were estimated to be £2.3m, which included employees' claims for redundancy and notice pay.
It is anticipated there will be insufficient funds to be able to pay them.