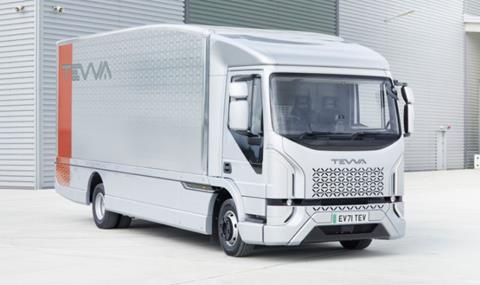 Electric truck manufacturer Tevva has been awarded a £4.2m grant - the lion's share of a total of £5.7m of funding from the UK's Advanced Propulsion Centre (APC).
The grant will help finance the development of Tevva's next generation, zero-emission, long-range medium duty trucks, which will range from 7.5 tonne to 19 tonne and advance the SANGREAL Project, a £12.2m collaboration between Tevva and designer and manufacturer Advanced Electric Machines (AEM), which aims to build the most sustainable motors in the world.
The partnership said this week it wants to accelerate the development of Tevva's fuel cell range extended medium to heavy duty commercial EVs for the 7.5–19 tonne "back to base" logistics market.
The funding will also go towards the design and development of an innovative electric transaxle and intelligent vehicle propulsion control system with on-board telematics designed to optimise the use of the H2 fuel cell range extender.
Ken Scott, Tevva chief engineer, said: "We are humbled and proud to be receiving this grant to continue developing Tevva's ground breaking technology in the EV market.
Read more
"We are developing zero-emission solutions for higher weight class "return to base" logistics vehicles that offer true cost of ownership benefit, compared to existing diesel offerings, with extended range - which is truly revolutionary for our industry. This funding will help make this a reality in the near-future."
Jon Beasley, Advanced Propulsion Centre business development and programmes director, added: "The automotive industry is at a pivotal point. Great ideas will not move the dial on decarbonisation unless they are on the road and taking the place of more polluting technology.
"The future movement of people and goods needs to be efficient and green. There has been real progress in the decarbonisation of cars to meet the UK Government's plans to phase-out sales of new petrol and diesel cars and vans from 2030. However, the pathways for medium and heavy duty and long-range transport are less clear.
"Further innovation and technology development is needed to decarbonise our buses, HDVs and off-highway vehicles and this is why we are delighted to be supporting Tevva and Advanced Electric Machines to deliver ground-breaking projects such SANGREAL."
James Widmer, Advanced Electric Machines chief executive, said: "These new technologies, when deployed, are expected to deliver market leading performance. We are impressed by Tevva's progress and see the true potential in the company to develop groundbreaking technology to sustain heavy weighted zero emission trucks. We are confident that the funding provided by this grant will help drive the clean freight industry forward."