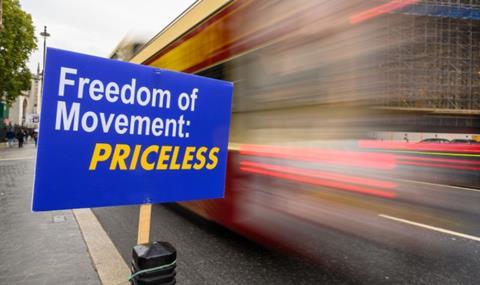 The government has refused to place HGV drivers on the skilled occupation list, saying the public "repeatedly voted" for immigration to be controlled and employers should recruit British workers instead.
Just days after trade groups Logistics UK and the British Retail Consortium urged ministers to help address the driver shortage crisis by granting temporary work visas to HGV drivers from the EU, the Home Office appeared to harden its stance by pointing out the country had requested this.
A spokeswoman for the Home Office said: "The British people repeatedly voted to end free movement and take back control of our immigration system. Employers should invest in our domestic workforce instead of relying on labour from abroad.
"We recently announced a package of measures to help tackle the HGV driver shortage, including plans to streamline the process for new drivers to gain their HGV licence and to increase the number of tests able to be conducted," the spokeswoman added.
"We have also temporarily relaxed drivers' hours rules to allow HGV drivers to make slightly longer journeys, but these must only be used where necessary and must not compromise driver safety."
Motortransport.co.uk also understands that the government has no plans to use military support to plug the skills gap.
The refusal to grant temporary visas came as operators of some of the biggest food retailers in the country said the pressure on the supply chain was only going to worsen as schools reopened and in the run-up to Christmas.
Read more
Speaking to the BBC, Tesco chairman John Allan said: "There is absolutely no reason for customers of Tesco, or I suspect other supermarket chains, to panic buy or anything like that but people are having to work very hard and the shortage of drivers is certainly one of the key things contributing to that set of problems.
"We are very short of drivers, it's a combination of many EU drivers having decided to go home and also the ageing profile."
Allan said that Tesco was working hard to keep on top of existing demand and there wasn't the capacity to build up the stocks for Christmas that it would normally be doing at this stage: "In the short term, in the run-up to Christmas, the best and most straightforward solution would be to allow the UK industry to bring in skilled drivers from elsewhere," he added.
Coral Rose, MD of Country Range, a group of 12 wholesalers supplying food and non-food items to schools, care homes and restaurants, said training and apprenticeships were important, but that was a long term solution: "If they gave the temporary visa scheme to encourage EU workers to come back, that's a short term fix," she told Radio 4's Today.
"We are taking drastic action. We're buying smaller delivery vehicles to make sure we don't need people with specific HGV licences to drive them because there's going to be increased pressure as schools reopen and people continue to holiday in the UK and people return back to offices.
"So the issue is going to get worse and we do want government intervention."
Logistics UK said getting new HGV drivers trained and qualified could take up to nine months and in addition, employers were battling a DVSA backlog of outstanding HGV driver tests.
Alex Veitch, Logistics UK manager of public policy, said: "It would be prudent for the government to enable temporary visas to be made available for European workers to return to supplement the domestic workforce.
"The industry needs drivers now, and we are urging the government to replicate its temporary visa scheme, introduced for agricultural workers, for logistics to keep trucks and vans moving in the short term."
He added: "Without an interim solution while new domestic drivers are recruited, trained and tested, the current problems experienced across the country with out-of-stock items will continue."