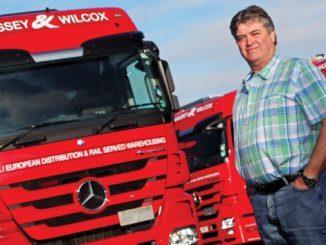 Massey Wilcox Transport has warned that the increase in profits many haulage firms enjoyed last year will be spent over the next 12 months as businesses contend with the rocketing costs of fuel, wages and vehicles.
MD Robert Wilcox (pictured) said any company that had a warehousing arm was likely to have had a good 2021, but the rebound from the pandemic could be short-lived.
Wilcox was speaking after his company reported an increase in turnover for the year ending 31 May 2021 to £14m.
Pre-tax profit also increased, from £669,000 in 2020 to £1.9m.
He said: "Probably every haulier had a good year last year.
"It's primarily down to warehousing. Because of the pandemic, customers were stocking up on raw materials to make sure they didn't run out.
"Even now, it's very difficult to find space."
Read more
Wilcox said the cost of diesel wasn't just increasing by a penny, but by "several pennies, several times" and that even with fuel surcharges, operators were being hammered by additional running costs: "The cost of trucks is going up and the costs of trailers," he said.
"You can have two price increases before you have even taken delivery of a trailer!
"We are waiting for more than 12 months for trucks, which is messing up everyone's replacement programmes.
"Maintenance contracts are coming to an end and there's no truck in place to take over - and there's also the cost of them.
"Things like that are difficult to pass on to customers."
Wilcox added: "The results for most haulage companies, if they also do warehousing, were particularly good last year, but whatever we made, I have a funny feeling we will be spending it in the next 12 months.
"We are concerned with what's facing us. I really hope it doesn't damage the economy, having just got through the pandemic."